Zatoichi The Fugitive
(1963)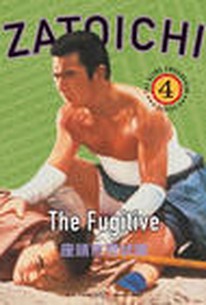 AUDIENCE SCORE
Critic Consensus: No consensus yet.
Movie Info
The legendary blind warrior discovers love and money have created divided alliances in this classic samurai film. After defeating a angry stranger he meets along the road, blind nomad Zatoichi (Shintaro Katsu) learns that a bounty is being offered for his head; despite the danger to himself, Zatoichi visits the mother of his victim and offers to help support her. As Zatoichi tries to find out why a price is being offered for his life, he discovers a community has been torn apart by violent feuding from rival bands of criminals -- and that one of the bloodthirsty killers who has been drawn to this ugly contest is now the husband of Gajuro, a woman he once loved. Will Zatoichi fight to free his love, or will he search out the man who wants him dead? ~ Mark Deming, Rovi
Cast
Critic Reviews for Zatoichi The Fugitive
All Critics (2) | Fresh (2) | Rotten (0) | DVD (2)
Although there is a dearth of action in the first two acts, the final showdown is exciting stuff, and has some of the best sword choreography in the series to date.
Audience Reviews for Zatoichi The Fugitive
Another solid Zatoichi film, Zatoichi The Fugitive once again follow Zatoichi as he is pursued and must do the right thing in order to protect and help the helpless and defend himself from those wanting him dead. This entry is a little slow paced in the first half but picks up and introduces a very formidable enemy that, for a while, is Zatoichi's equal in battle. There is some great and very well done battle choreography in the grand final duel that is simply awesome!
Chris Browning
Super Reviewer
½
Zatoichi once again incurs the wrath of many after winning a sumo wrestling contest. After an assassin is killed by Zatoichi, he goes to the dead mans house to pay his respects to the mother. The mother is understanding and holds Zatoichi in high regard. Zatoichi the Fugitive begins to highlight Zatoichi's weaknesses. He's his usual happy-go-lucky self at the beginning, but when his old flame Tane is put in harms way, we see Zatoichi make his first true mistake of the series as emotion overcomes his commonsense. The final battle is bigger and better than anything so far, and Zatoichi's foe is a real threat to the seemingly invincible masseur. It's a darker film and one that has a lot of interesting characters on board to help drive the plot forward.
Luke Baldock
Super Reviewer
although not as good as other zatoichi movies, this is a solid zatoichi tale. the story is a bit incoherent in the begining, but the story picks up well and the fight scene at the end is classic. zatoichi goes all cyrano debergerac on a group of samurai, and we see his first true moments of vulnerability. good flick.
Zatoichi The Fugitive Quotes
There are no approved quotes yet for this movie.