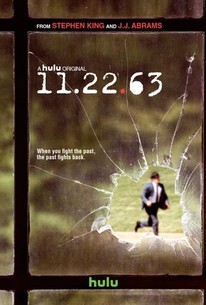 Where to watch
Buy
Subscription
Buy
Buy
Rate And Review
11.22.63: Miniseries Photos
Audience Reviews for 11.22.63: Miniseries
Vavavroom. How rare to watch such a brilliant production. James Franco at his best. Sarah Gadon makes you heart rocks. All actors are really good. Superb directing. Original story. What's not to like?

Very well acted, nice pace that keeps you entertained.

It was very good. They did a good work with side characters and the main story composition. But there can be better reasons and ways to tell the story. Al's motivation was a bit unclear. Actually the main motivation was not so effective. They could indicate better that the country was not good enough, it needs to change.

Overall it was a pretty good series, but probably didn't need all the detours and tangents that didn't add to the main storyline. You could probably enjoy it just as much by watching the first and last episodes only and skipping the middle six.

22.11.63 is a mixed experience, at its best a fictional wonder where the basic plot is played out with a well of good ideas, and with many good exemplifications of how the differences in mindsets between people from eras more than 50 years apart could and probably would work out. The ground idea is marvellous, but too much of the story is occasionally disturbed by irrational elements and even logical flaws. Several of the actual historical elements can be concidered as complete nonsense, so this is not the real thing for those who have done their research on the assassination of JFK. However, the total is both fascinating and entertaining, and many solid acting performances do serve the characters well.

Excellent series, with alot of unexpected turns. The cast was perfect. Definitely recommend

Entire Series was great. Great cast. Sarah Gadon was positively wonderful. Franco's performance as a teacher was a bit lackluster but overall his performance was credible. The tension resulting from changing the course of events was drama filled and really held my interest. Overall I enjoyed it so much I had about three viewing so far of the entire series. Caught it all on Amazon Prime Video

King's book is a masterpiece, but the series is lousy. Its main flaw is in the script; the numerous changes and additions to the book are useless, clumsy, distracting. Much is taken away from the book's plot, even parts that would make excellent cinematic material. The original characters are flattened, the new ones are poor, often inconsistent. The acting of Mr. Franco is embarrassing. The book was poignant and compelling; the series is a sad travesty of it.

From the files of "Ooooo. That could have been better," comes 11.22.63. Sadly the choice of James Franco as the lead of this series was a bad, bad choice. He plays it almost the same way as his character in "Pineapple Express" (a much better movie) where he stupidly bumbles through much of the miniseries making mistake after costly mistake in his attempt to thwart the assassination of former President John F. Kennedy. I never read the source material this show was based on, but it was frustrating to see his character go from making mistakes like a Keystone cop to planning based on the teachings of his mentor played by the great Chris Cooper. Other than Franco, most of the rest of the cast does an outstanding job throughout the series. One very limiting feature of the plot is the notion that, if you go back through the time portal, anything you've done up to that point will reset. That's problematic in 2 big areas. For one, (and I don't want to spoil the ending) IF JFK's assassination is foiled, by going back, won't that reset the timeline to where it won't even matter if you prevented it or not? And two, it would have been much more interesting if Franco could have gone back from time to time to check and see if his progress was making any kind of positive or negative impact. Of course, in that case, the plot vehicle where the reset occurs would have to be abandoned in order for the story to progress. I just wish the creators could have done a better job of writing and editing to make the story move faster (it's slow at times) and recast the Franco part to another actor that might portray the protagonist as something more than a drug-addled idiot. He didn't have to be a super-history-genius, but he didn't have to be a moron tripping every landmine in the story to create so many "whoops" moments. It wasn't a bad series and if you're looking for something to binge, I recommend it. Each episode is about an hour and since there are only 8, you can easily run through the complete series in a day if you're a total couch potato.

This thing crashes disastrously somewhere on the 2nd or 3rd part. I can't figure what made King take a perfectly good story, flatten the hell out of it, make up all these ridiculous side plots that weren't there to begin with, and practically kill the story. Everything here is just so off. I couldn't even force myself to the last part being so disinterested as I got. Do yourself a favor and read the book.
See Details