Suffer the Little Children
EPISODE: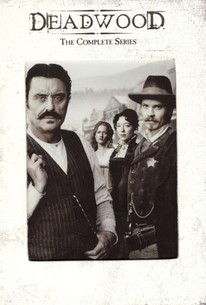 Episode Info
Al (Ian McShane), cleaning a bloodstain off the floor of the Gem, offers some advice. "You might, Dan (W. Earl Brown), want to learn how to indicate interest in a girl without murdering another person." E.B. (William Sanderson) has murder on his mind, suggesting to Al that offing Seth (Timothy Olyphant) and Alma (Molly Parker) in their sleep might be the best way to gain control of Alma's gold claim. But then smallpox vaccine arrives in the camp, along with news of a probable treaty with the Sioux, and Al, sensing a change of times, preaches patience. "We are about to be swimming in money," he tells E.B. Alma, having taken Trixie's (Paula Malcolmson) words to heart, is ready to accept E.B.'s bid and return with the girl (Breeseanna Wall) to New York, but Seth insists on assaying her claim first. Ellsworth (Jim Beaver) is just the man to do it, but at the claim, he lets Seth get far enough ahead of him that he can say to Dan, "If I'm to get my throat cut...I'd rather not exert myself further." With Dan's reassurance, Ellsworth points out a rich vein of gold to Seth. Trixie, meanwhile, has apparently decided that her prospects for continued survival in Deadwood are poor. On returning to camp, Seth meets with Al, who tells him, "If a treaty is signed, it'd be wise for you and me to paddle in the same direction." Seth wants Al to guarantee Alma's safety, and he does. Flora (Kristen Bell), knowing that Cy (Powers Boothe) suspects her, convinces Miles (Greg Cipes) that it's time for them to make their move. Joanie (Kim Dickens) tries to protect her, but as Cy puts it to one dismayed onlooker, "You could help your delicate sensibilities by turning the f*ck away."
Suffer the Little Children Photos
Discussion Forum
Discuss Deadwood on our TV talk forum!