Doctor Who: Season 7
(2011 - 2013)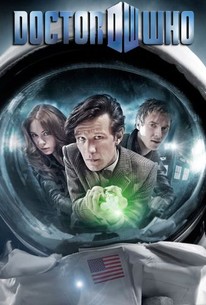 Rate And Review
Doctor Who: Season 7 Photos
Tv Season Info
The British classic's seventh series finds the 11th incarnation of the doctor (Matt Smith) on his final adventures in the TARDIS with the departing Amy and Rory Pond (Karen Gillan; Arthur Darvill). Before saying good-bye to their "madman with a box," the companions face an assortment of Daleks, dinosaurs, wild-west shootouts, alien cubes and, finally, an infestation of Weeping Angels in New York. Rory's father, Brian (Mark Williams), accompanies the trio on a couple of their adventures and series staple River Song (Alex Kingston) returns for a dramatic episode where the Doctor must face the one thing he hates most of all---endings.
News & Interviews for Doctor Who: Season 7
Audience Reviews for Doctor Who: Season 7
The season suffers a little from being divided in two parts, and from quit a few badly written episodes (like Dinosaurs on a space ship that wastes a whole episode in the first half). The second half feels a bit confused, but it starts to lay the foundation for future events.

This season was such a hugely disappointing sendoff to the greatest Doctor this show has had. I liked the finale, though many didn't seem to, but the season as a whole was just poorly written and not interesting and forcibly dark in a disinteresting way. The only redeeming episodes were Amy and Rory's farewell (which nearly had me in tears and was just an awesome, complex episode), "The Snowmen" which introduced one of the best companions, and "The Name of the Doctor". The other two "of the Doctor" episodes were good, but aren't technically included in this season. Besides that, the episodes were either bad or mediocre. It was really sad to see. Matt Smith deserved better.

this is my second favourite series of doctor who with it being behind series 4. it contains my favourite episode of all time (the Rings of Akhatten) and I think there isn't one bad episode in this. this series is so underrated.

A liitle more sci-fi than fantasy, but still love it.

This series was exciting to watch, the phone was off the hook, no visitors signs up :). A nice way to spend a bit of time away from reality.

Enjoyable Sci-fi, much better than the drivel it has become in 2020! Oh god, it's awful now.

I thought last season sucked. Last season's writing by Stalin's propaganda team has been sent to the gulag for being to right wing. But remember Gulags and bread lines are a good thing....

Congratulations, everyone! Dr. Who's back ... I hope you like rotten garbage! Bad production and acting. Also, Dr. Rev. Who will deliver politically left sermons throughout the episode. Thanks, BBC!

Loved it... Missing Mat today still

Mediocre at best, First half is the best of the season, the rest is very generic and bland.