Further Instructions
EPISODE: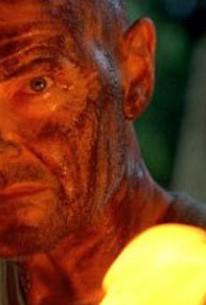 Episode Info
In the aftermath of the hatch explosion, the fates of Locke, Mr. Eko, and Desmond are finally revealed as Locke flashes back to the time he once spent in a highly secretive commune. Upon awakening in the jungle, a severely disoriented Locke notices Desmond running by completely naked. Before Locke can call out to him though, Desmond has already disappeared. Locke is mute, and determined to finally find out the truth about the island. When Locke returns to the camp and begins constructing a sweat lodge, Charlie is assigned the task of standing guard just outside the structure. The vision that Locke experiences after consuming a bowl of mysterious paste is remarkable in its vividness: Boone is pushing a wheelchair-bound Locke through the Sydney airport, explaining that someone on the island is in great danger and that Locke is their only hope for salvation. While at first it's difficult to discern who it is that is in such mortal danger, the discovery of Mr. Eko's bloodied "Jesus stick" followed by a vicious polar bear is all Locke needs to set out on his rescue mission. His mind drifting back to his former life in northern California, Locke recalls picking up a hitchhiker named Eddie and taking him back to live with his "family" in a remote, farm-like community. While the group accepts Eddie with open arms, it's fairly obvious that they have some secrets to hide. Back on the island, Locke and Charlie set out in search of Mr. Eko only to be confronted by a polar bear. When Locke throws a knife at the bear and it nearly strikes Hurley instead, the frightened Hurley cautiously makes his way back to the camp. On his way back Hurley crosses paths with the naked Desmond, who makes a mysterious comment about a speech by Locke in which he stated he would go after Jake, Kate, and Sawyer; the only problem is, that speech never happened. Back on the commune Eddie knows that the family is keeping a secret and voices a pointed desire to get in on the action. Though Locke makes good on his promise to discuss the matter with the leaders of the group, they already know that Eddie is an undercover cop looking to gather evidence against them. In the tense standoff that follows, Locke holds Eddie at gunpoint and prepares to do whatever is necessary to protect his "family."
Further Instructions Photos
Discussion Forum
Discuss Lost on our TV talk forum!