SEASON: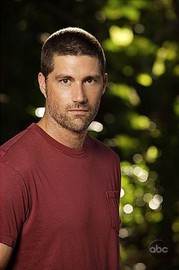 TOMATOMETER
AUDIENCE SCORE
Critic Consensus: Though it introduces yet more unanswered questions, Season 5 of Lost also moves quickly, covers more character development, and fleshes out its rich world further for hungry fans.
Episodes
Air date: Jan 21, 2009
Part 1 of 2. Jack and Ben begin their quest to reunite the Oceanic 6 for a return to the island (carrying Locke's body with them) to save the remaining survivors, while those survivors feel the effects of the island's move. Meanwhile, Hurley and Sayid are on the run from police; Kate gets an unwelcome request from a mysterious lawyer; and Sun and Charles Widmore have an unpleasant meeting, but it turns out that they have a common goal.More
Air date: Jan 21, 2009
On the island, the remaining survivors come under attack by unknown forces. And in L.A., Hurley and Sayid remain on the run from police while Kate (who's on the run from lawyers wanting her and Aaron to take DNA tests) gets advice from an old friend concerning "the lie." Meanwhile, Ben tells Jack to pack everything dear to him for their return to the island, because "you're never coming back."More
Air date: Feb 4, 2009
Kate discovers that someone knows the identity of Aaron's parents. On the island, the dramatic shifts through time place the remaining survivors in extreme peril.More
Air date: Feb 11, 2009
Locke takes it upon himself to stop the island's increasingly violent shifts through time. Meanwhile, Ben hits a snag in his attempt to reunite the Oceanic 6 and bring them back to the island.More
Air date: Feb 25, 2009
Locke (as Jeremy Bentham) takes a fateful mission off the island. Walt: Malcolm David Kelley.More
Air date: Mar 25, 2009
One of the survivors goes rogue and acts alone, risking the lives of everyone on the island.More
Show More Episodes
Tv Season Info
"When am I?" John Locke's chronological confusion sums up Season 5, which hopscotches dizzyingly between the 1970s and 2007 as it charts the Oceanic Six's return to the island and reveals important island secrets. On the island, Locke (Terry O'Quinn) is the new leader of the Others. But in L.A. , he's dead, and his death plays a key role in getting Jack (Matthew Fox), Kate (Evangeline Lilly), Hurley (Jorge Garcia) and Sun (Yunjin Kim) to return via Ajira Airways. Sayid (Naveen Andrews) refuses to join his fellow former castaways, but winds up being escorted onto the Guam-bound flight by a bounty hunter named Ilana ( Zuleikha Robinson ). Ben (Michael Emerson) must return, too, to face judgment for allowing his daughter Alex to die. Their flight---with Frank Lapidus (Jeff Fahey) at the controls---is a bumpy one, but the final destination is indeed the island. Ben, Sun, Ilana and Frank remain fixed in time upon their return to the island, but Jack, Kate, Hurley and Sayid are flashed back in time to 1977, where they are reunited with Sawyer (Josh Holloway) and Juliet (Elizabeth Mitchell). After surviving a series of time-travel flashes, Sawyer and Juliet landed in the 1970s and forged a close relationship with each other and the Dharma Initiative, which also welcomes Miles Straume (Ken Leung). Meanwhile, Miles' colleague Daniel Faraday (Jeremy Davies) embarks on a time-traveling mission that introduces him to a nuclear bomb named Jughead and a young woman named Ellie. Both play prominent roles as the season progresses. … More
News & Interviews for Lost: Season 5
Friend Ratings for Lost: Season 5
No Friends? Inconceivable! Log in to see what your friends have to say.
Login
Audience Reviews for Lost: Season 5