Rescue Me: Season 4
(2007)
SEASON: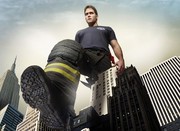 TOMATOMETER
——
Average Episode Score:
N/A
——
Average Episode Score:
N/A
AUDIENCE SCORE
Critic Consensus: No consensus yet.
Episodes
Air date: Jun 13, 2007
As the fourth season begins, Janet has given birth to a baby boy---whom she fears prefers Tommy to her. But Tommy has a bigger problem: he's suspected of starting the beach-house fire. Meanwhile, Jerry's son asks him to be his best man at his commitment ceremony; Richie wants Franco to marry Natalie; Lou and Theresa get distracted in church; and the volunteer firefighter (Jennifer Esposito) who rescued Tommy from the beach house takes an interest in him---and isn't shy about letting him know.More
Air date: Jun 20, 2007
Tommy confronts Sheila about the beach-house fire and she lies to him. But they present a united front to the insurance investigators (as embarrassing as it is for Tommy). Meanwhile, Lou's determined to get a basketball ringer (Lorenz Tate) to be 62 Truck's new probie; Uncle Teddy is released from jail; Colleen runs away with her rock-musician boyfriend; and Mike's mother has a death-bed request.More
Air date: Jun 27, 2007
Tommy encounters Colleen's boyfriend and sparks fly; Jerry learns he flunked his physical and is given a desk job; Uncle Teddy, hiding from Ellie, breaks into prison guard Lenny's apartment; Sheila goes out with the man who pulled her from the beach house, while Tommy keeps avoiding Nona, the volunteer firefighter who rescued him from the blaze; and Mike seeks Tommy's advice on how to deal with his dying mother's request that he kill her.More
Air date: Jul 11, 2007
Emotions flare up when the crew learns about Jerry's death; Tommy's manhood is called into question after some embarrassing romantic encounters; Sean confronts Maggie about her drinking; Franco considers asking Natalie to marry him; and Lou looks for a way to get that ringer Bart for the house basketball team.More
Air date: Jul 18, 2007
The firehouse gets a new chief (Jerry Adler), who is rumored to possess a very special gift; Tommy suffers embarrassment during a hockey game against the NYPD; Franco works up the nerve to propose to Natalie while Sean tries to talk Maggie out of a divorce; and Sheila makes a surprising proposition as Janet's depression deepens.More
Air date: Jul 25, 2007
Janet sinks deeper into her postpartum depression; Sean learns a secret that Mike has been trying to hide; the new probie (Larenz Tate) holds the guys to their agreement about not doing "probie" work; Lou and (especially) Theresa struggle with their decision to "take a break" from sex.More
Air date: Aug 1, 2007
A devastating fire has a profound effect on the crew; Tommy wrestles with his feelings about the baby; Alicia (Susan Sarandon) returns with a proposition for Franco; Troy breaks up with Sheila while Lou makes a tough decision about Theresa; and Sean apologizes to Mike about the fire he set that burned down Mike's mother's house.More
Air date: Aug 15, 2007
The Gavin clan stages an intervention after several disturbing family calls; the mysterious woman (Gina Gershon) from the restaurant leaves Tommy wanting more; Janet must take matters into her own hands to get her baby back; and a depressed Mike calls Tommy in a moment of despair.More
Air date: Aug 22, 2007
The Gavins attend their first AA meeting, but Sean isn't welcome since he doesn't drink enough; Tommy turns to Colleen for information about Janet and learns some disturbing things about his childhood from his father (Charles Durning); Richie tells Franco what Natalie has been doing since their breakup; Lou mulls revenge on his cousin (Artie Lange); and Mike, under orders from Tommy to "stop moping," visits a singles bar.More
Show More Episodes
Tv Season Info
Season four opens with Tommy (Denis Leary) and Sheila (Callie Thorne) being investigated for arson and insurance fraud following the fire at Sheila's new house. Janet ( Andrea Roth ) gives birth to a child that Tommy has determined to accept as his own -- until the baby's hair turns out to be the jet black color of Johnny's.
News & Interviews for Rescue Me: Season 4
Friend Ratings for Rescue Me: Season 4
No Friends? Inconceivable! Log in to see what your friends have to say.
Login
All Critics (2) | Top Critics (1) | Fresh (2) | Rotten (0)
The simple fact is that this is a good show, Leary is particularly good in it, and if the premiere is any judge, the fourth season will be as entertaining and engrossing as ever.
For the most part it's still morbidly fascinating, with the last seconds of Episode 3 providing one of Rescue Me's biggest jolts to date. The series may not be on fire all the time, but it hasn't cooled its jets just yet.
Audience Reviews for Rescue Me: Season 4
There are no featured audience reviews yet. Click the link below to see what others say about Rescue Me: Season 4!