Spartacus: Blood and Sand
(2010)
SEASON: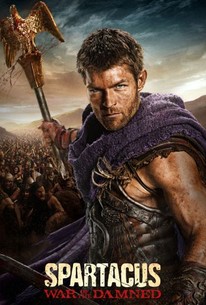 Spartacus: Blood and Sand Photos
Tv Season Info
This action-adventure spectacle may be bloody entertaining, but it is also somewhat bloody. The body count for the cable series, which tips its helmet to the big-screen gorefest that was 2007's "300," appears to approach that number for most episodes. It's violent, but it is also captivating and compelling, as it regales with the tale of a heroic Thracian warrior (Andy Whitfield) turned Roman slave turned gladiator. He battles to save his life and reunite with his wife (Erin Cummings), who was also condemned to slavery. Early on, the warrior slave is purchased by the Roman Batiatus (John Hannah), who trains gladiators, and thrust into brutal and painful training. Spartacus soon makes an enemy of the accomplished, successful gladiator Crixus (Manu Bennett), but before long Spartacus is able to convince Crixus to aide in a rebellion that will hopefully free the gladiators and exact revenge on the conniving, duplicitous Romans. Whitfield, unfortunately, died from complications of non-Hodgkin's lymphoma in 2011, and was replaced by Liam McIntyre in subsequent incarnations of the Spartacus saga.
Audience Reviews for Spartacus: Blood and Sand
A completely over the top experience, but one with solid acting and a great story that kept me interested the whole season. The action can get a little repetitive because they overuse the slow motion CG, but it can also be pretty spectacular in parts as well. The dialogue can be a little vulgar at times, but it doesn't completely derail the experience. At times it is rather hilarious. This is just highly enjoyable camp.
Discussion Forum
Discuss Spartacus on our TV talk forum!