The 100: Season 2
(2014-2015)
SEASON: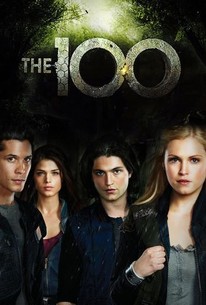 Tv Season Info
In Season 2 Clarke escapes and finds out that there is a large amount of human survivors on the planet, but they haven't built up a resistance to radiation like the 100 have. Meanwhile, Chancellor Jaha finds a baby in the Ark and plans to go to the Earth. However, he crash lands and is later rescued by a boy called Zoran who is in search of the City of Light with his parents.
News & Interviews for The 100: Season 2
Audience Reviews for The 100: Season 2
½
The second season of "The 100" may just be one of the most impressive improvements on any television show I have ever seen. Maturing and delving deeper into politics and raw human emotions, this season is truly an emotional roller coaster, especially if you were a fan of the first season. In some ways, "The 100" is very reminiscent of the show "Lost," in the way it provides it's shocking conclusions or big reveals. There are elements of popular television shows sprinkled throughout, but borrowing great elements to benefit your show is just a great idea to begin with. More inspired than anything. This season follows the same characters, but with one change; They are now living on Earth with their elders/parents, as they also try to defend their people and their camp from multiple groups. Grounders and Mountain Men are the two groups pinned against them, and while truces may be made in order to have peace, great sacrifices will also come. I loved every aspect of where this season went, and the only real complaints I have are with some of the effects and dialogue. Television has never been praised for it's visual effects, which is why when something big happens in an episode it is very noticeable, even though this show does it better than most. The writing of this season is much more clever this time around, but the dialogue itself can feel slightly off when certain characters speak. It could just be their delivery, but I find that hard to believe since I truly think 90-100% of this cast is terrific for what their characters are. This is a fantastic follow-up season that I highly recommend. "The 100" keeps getting better and better, and I can not wait to see what season 3 has in store.
'The 100' caught my attention with its 'Lord of the Flies' flavor (with teens instead of kids) (teens who rule over adults, which is getting old), but it tries too hard. It is stressful and too intense, showing a gasping thrill every five minutes. First, we fear 100 kids may die as they journey from a space station to earth, then they get speared by cavemen called Grounders (who happen to speak English), then some of them kill off each other, then the most civilized people on the planet suck the kids' bone marrow for medicinal reasons… ahhhhhhh! Not to mention dirty bloody faces with sparkling gleaming white teeth... men falling ten feet down, landing on their back, and then they're fine ten minutes later... and teens getting beaten to a pulp, and they're fine a day later. I need to take a tranquilizer after watching this show. My blood pressure is high enough, thank you very much. There's never a down moment. There's never a calm atmosphere. I can't breathe. I can't relax. It's suspense on steroids. Enough!
½
Starts off relatively well and with some extra twists that keep you engaged while it lasts, with our characters evolving to new and unexpected directions when put under extreme circumstances but it just repeats itself a bit often. Also, some storylines just felt flat and unnecessary like Jaha's pilgrimage or whatever it was to reveal the next villain for next season that came out of nowhere. The grounders and mountain people worked well because they were carefully introduced over the first and second seasons, this one just came out of nowhere. Still, it continues to be very entertaining and unexpected as usual, so I'll be back for season 3.
Discussion Forum
Discuss The 100 on our TV talk forum!