Wolf Hall on Masterpiece: Season 1
(2015)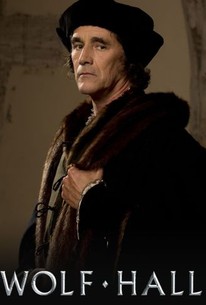 Rate And Review
Tv Season Info
The story of Thomas Cromwell (Mark Rylance), the son of a brutal blacksmith who rises through the social classes to become the chief adviser to King Henry VIII (Damian Lewis), a position once held by his mentor, Cardinal Wolsey (Jonathan Pryce). It's in that capacity that he helps the controversial monarch orchestrate an annulment from Katherine of Aragon (Joanne Whalley)—and a break from the Catholic Church—so that he can wed the tempting and tempestuous Anne Boleyn (Claire Foy). Adapted from Hilary Mantel's novels "Wolf Hall" and "Bring Up the Bodies."
There are no critic reviews yet for Season 1. Keep checking Rotten Tomatoes for updates!
Audience Reviews for Wolf Hall on Masterpiece: Season 1
After the rave reviews I was disappointed. The documentary-like use of shaky cam and following Master Cromwell from behind was not realistic or true to period; it took me out of the time period and kept reminding me "this is a modern movie about the past" so I couldn't get lost in it. The implication that the bulk of the information against Anne Boleyn came from Jane Rochford when there's strong historical evidence that the top snitch was Elizabeth Somerset, Countess of Worcester is copy-catting: "Jane Rochford did it" has been done to death. Anne as shrew and her sister Mary as sweet saint is a ripoff of The Other Boleyn Girl. Finally, depicting someone as shrewd and ruthless as Thomas Cromwell as staring poignantly at people like a depressed basset hound made no sense. If the books were as weak as this mini series, the awards baffle me.

A strong character and political thriller that brings an entirely new perspective and drama to the familiar story of Henry VIII and Anne Boleyn. Stellar performances along with a cinema verite cinematography help create an excellent miniseries.

Excellent. Had to warm up to Mark Rylance's understated performance. However if you read the book, Cromwell learned at an early age not to show emotion for fear his father would beat the crap out of him. Watch Rylance in the first episode where a single tear rolls down Cromwell's cheek upon receiving bad news. Great writing. Great performances. Filmed on location where events took place with no set construction and with natural lightIng (by candle) at night give it authenticity. I keep bin watching this. I hope they all return for "The Mirror and the Light."

Streamlining a thousand pages of fiction into six dense hour-long episodes, this is a darkly-lit, finely acted and thoroughly compelling series that unfolds like a real-life house of cards.

I loved the pace and presence of this film, it felt authentically 16th century, superb acting, exquisite music. Every frame looked like a Renaissance/Baroque painting.

A great 7-episode mini-series which depicts the early years of reign of King Henry VIII in which, Thomas Cromwell finds himself amongst the treachery and intrigue of King Henry VIII's court and soon becomes his close advisor, a role full with danger, as he has to deal with Anne Boleyn's most intrincate problems. Mark Rylance, Damien Lewis and Claire Foy performances are great and the main theme is so good!

not as good as people say. decent to watch once

I just binged watched this whole series through Amazon Prime this past weekend and relished every second. Very faithfully adapted from Hillary Mantel's brilliant novels. I can't wait for the third book/second installment of this miniseries. PS- Mark Rylance and ensemble are pitch perfect.

Mark Rylance é um ator excepcional.