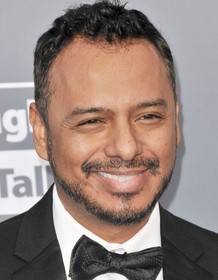 Carlos Moreno Jr.
Highest Rated: 69% Frank & Lola (2016)
Lowest Rated: 5% Delta Farce (2007)
Birthday: Dec 20, 1971
Birthplace: McAllen, Texas, USA
Carlos Moreno Jr. was an actor who had a successful Hollywood career. Moreno kickstarted his acting career appearing on various dramas, including "ER" (NBC, 1994-2009), "CSI: Crime Scene Investigation" (CBS, 2000-2015) and "Dexter" (Showtime, 2006-2013). He had an early role on the television special "Medio Tiempo" (Showtime, 2001-02). He also had roles in film during these years, including roles in the Larry the Cable Guy comedic adventure "Delta Farce" (2007) and the Shia LaBeouf blockbuster action flick "Transformers" (2007). He also played parts in television during these years, including roles in "Eleventh Hour" (CBS, 2008-09) and "Major Crimes" (TNT, 2012-). Most recently, Moreno acted in the drama "Frank & Lola" (2016) with Michael Shannon.
Skip to Quotes
Filmography
Movies
Credit

No Score Yet

No Score Yet

Panacea
Dario (Character),
Director,
Producer,
Film Editing
-
2017

69%

42%

Frank & Lola
Javier (Character)
$5.7K
2016

No Score Yet

No Score Yet

Medusa
Henry (Character)
-
2015

No Score Yet

No Score Yet

Holding Back
Director
-
2010

5%

38%

Delta Farce
Jaime (Character)
$8.1M
2007
TV