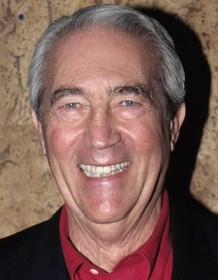 James Karen
Highest Rated: 100% I Never Sang for My Father (1970)
Lowest Rated: 5% Return of the Living Dead Part II (1988)
Birthday: Nov 28, 1923
Birthplace: Wilkes-Barre, Pennsylvania, USA
A well-bred supporting player of stage, film and TV, James Karen is the kind of actor whose face is immediately recognizable to the audience, but whose name is often elusive. He is also one of those actors who always seems to work. Karen is also known to millions in the New York area as the spokesperson for the Pathmark chain of supermarkets for more than two decades.
Photos
RETURN OF THE LIVING DEAD, PART II, James Karen, Thom Mathews, 1988
RETURN OF THE LIVING DEAD, James Karen (center), Clu Gulager (r.), 1985, (c)Orion Pictures
WALL STREET, from left: Charlie Sheen, James Karen, 1987, TM & Copyright © 20th Century Fox Film Corp.
FRANKENSTEIN MEETS THE SPACEMONSTER, (aka MARS ATTACKS PUERTO RICO), James Karen, Nancy Marshall, Robert Reilly, 1965
JAGGED EDGE, Jeff Bridges, James Karen, 1985"
RETURN OF THE LIVING DEAD, PART II, Dana Ashbrook, James Karen, Marsha Dietlein, Phillip Bruns, 1988
ANY GIVEN SUNDAY, Cameron Diaz, Ann-Margret, James Karen, Director Oliver Stone, 1999. (c) Warner Bros..
SUPERMAN RETURNS, Eva Marie Saint, James Karen, 2006, (c) Warner Brothers
INVADERS FROM MARS, James Karen (seated), Eric Pierpoint, Hunter Carson, Karen Black, 1986. ©Cannon Films