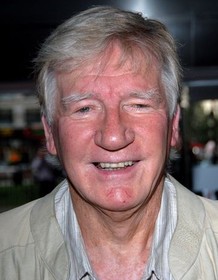 Joe Robinson
Highest Rated: 89% Barabbas (1962)
Lowest Rated: 63% A Kid for Two Farthings (1956)
Birthday: May 31, 1927
Birthplace: Newcastle upon Tyne, England, UK
Joe Robinson has built an incredible presence on the big screen throughout his acting career. Robinson began his acting career with roles in such films as the dramatic adaptation "A Kid For Two Farthings" (1956) with Celia Johnson, the Stanley Baker action flick "Sea Fury" (1958) and the Cameron Mitchell adventure "Erik the Conqueror" (1961). He also appeared in "The Two Faces of Dr. Jekyll" (1961). He continued to work steadily in film throughout the sixties and the seventies, appearing in "Barabbas" (1962), "The Loneliness of the Long Distance Runner" (1962) and the action picture "Diamonds Are Forever" (1971) with Sean Connery. Toward the end of his career, he tackled roles in "Beyond and Back" (1978) and "Thor and the Amazon Women" (2005). Most recently, Robinson worked on "The Night Listener" (2006) with Robin Williams.
Photos
A KID FOR TWO FARTHINGS, from left: Diana Dors, Joe Robinson, Sid James, 1955
THE LONELINESS OF THE LONG DISTANCE RUNNER, Joe Robinson, Michael Redgrave (R), 1962.
A KID FOR TWO FARTHINGS, Joe Robinson, Diana Dors, 1955
Filmography
Movies
TV
| | | | Credit | |
| --- | --- | --- | --- | --- |
| No Score Yet | No Score Yet | El Santo | Austin (Guest Star) | 1963 |
| No Score Yet | 86% | The Avengers | Unknown (Guest Star) | 1963 |