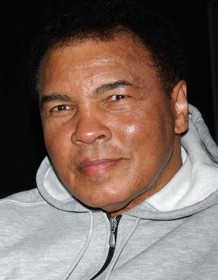 Muhammad Ali
Highest Rated: 98% When We Were Kings (1996)
Lowest Rated: 20% The Greatest (1977)
Birthday: Jan 17, 1942
Birthplace: Louisville, Kentucky, USA
Arguably the one of the most recognized public figures in the world, as well as one of the greatest athletes of the 20th century, Muhammad Ali was the three-time heavyweight boxing champion of the world, with 56 wins - including 37 knockouts - to his name, including three historic matches against Sonny Liston, Joe Frazier and George Foreman. Ali was also a leading social and political figure in the 1960s and 1970s who nearly lost his boxing career due to his opposition to the Vietnam War for religious reasons. His extraordinary physicality and personality, which combined a gift for poetic boasts with a deeply thoughtful and philosophical nature, captured the public's attention like no athlete before or since, and his deeds both in and out of the ring inspired millions. Though physical ailments slowed Ali after his retirement in 1980, he remained a formidable proponent for humanitarian causes, including peace missions for the United Nations in the Middle East. Ali's life and career, which was told and retold in countless films, books and other media, retained its ability to move and amaze for decades, and elevated him from sports icon to living legend. His death on June 3, 2016 at the age of 74 was mourned around the world, for his humanitarian efforts and gloriously oversized personality as much as for his undeniable pugilistic skills.
Photos
Muhammad Ali
WHEN WE WERE KINGS, Muhammad Ali, 1996. ©Gramercy Pictures
BODY AND SOUL, Muhammad Ali, 1981. ©Cannon Films
A.K.A. CASSIUS CLAY, Muhammad Ali, 1970
A.K.A. CASSIUS CLAY, Muhammad Ali, Angelo Dundee, 1970
A.K.A. Cassius Clay, 1970 documentary, Muhammad Ali fighting Floyd Patterson Nov. 1965.
THE GREATEST, Ernest Borgnine, Drew Bundini Brown, Muhammad Ali, John Marley, 1977
THE GREATEST, Muhammad Ali, 1977
THE GREATEST, Muhammad Ali, 1977
FIDEL, Muhammad Ali, fidel Castro, 2001, (c) First Run Features
THE GREATEST, Muhammad Ali, Annazette Chase, 1977
THE GREATEST, Mira Waters, Muhammad Ali, 1977
THE GREATEST, Muhammad Ali, 1977
A.K.A. CASSIUS CLAY, Muhammad Ali, Angelo Dundee, 1970
BLACK RODEO, Muhammad Ali, 1972
SOUL POWER, Muhammad Ali, 2008. ©Sony Pictures Classics
SOUL POWER, Muhammad Ali, 2008. ©Sony Pictures Classics
THE GREATEST, Muhammad Ali, 1977
THE GREATEST, Ernest Borgnine, Muhammad Ali, 1977
THE GREATEST, Muhammad Ali, 1977