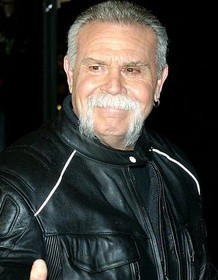 Paul Teutul Sr.
Highest Rated: Not Available
Lowest Rated: Not Available
Birthday: May 1, 1949
Birthplace: Yonkers, New York, USA
An unlikely reality series star due to his imposing presence and tendency towards explosive anger, Paul Teutel, Sr. nevertheless found fame as the patriarch of a custom motorcycle manufacturing shop on "American Chopper" (Discovery/TLC, 2007-2010). Born Paul John Teutel on May 1, 1949 in Yonkers, NY, he was not aware that he shared a full legal name with his father until his mid-thirties and was, in fact, Paul Teutel Jr., but by then, he had already produced a son, also named Paul, and was known to all as "Senior." He served in the Merchant Marine during the Vietnam War, and returned to New York to work in welding and fabrication. Eventually, he launched his own company, Paul's Welding, which blossomed into Orange County Iron Works. Teutul's passion for customizing motorcycles eventually overtook his welding business, and after displaying his custom bikes at shows across America, he launched Orange County Choppers with his son, Paul Jr., in 1999. The colorful and often combative relationship between Teutul Sr. and his son, as well as his youngest child, Michael Teutul, caught the attention of The Discovery Channel, which launched "American Chopper" in 2002.
Skip to Quotes