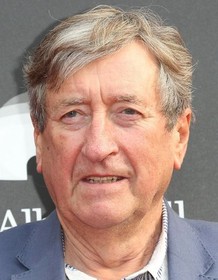 Philip Jackson
Highest Rated: 100% Patrick's Day (2014)
Lowest Rated: Not Available
Birthday: Jun 18, 1948
Birthplace: Retford, Nottinghamshire, England, UK
Philip Jackson was an actor who had a successful Hollywood career. Early on in his acting career, Jackson landed roles in various films, including the Fred "The Hammer" Williamson action film "Hammer" (1972), "Pressure" (1976) with Herbert Norville and the drama "Scum" (1979) with Ray Winstone. He also appeared in "Farmers Arms" (1983), the musical "Give My Regards to Broad Street" (1984) with Sir Paul McCartney and the historical film "The Doctor and the Devils" (1985) with Timothy Dalton. He kept working in film throughout the nineties, starring in the Bao Guoan historical drama "The Opium War" (1997), "Our Boy" (1998) and the Brenda Blethyn dramedy "Girls' Night" (1998). Jackson was nominated for an Outstanding Performance by a Cast in a Motion Picture Screen Actors Guild Award for "Little Voice" in 1999. Recently, he tackled roles in "A Little Trip to Heaven" (2005), the Tom Riley foreign "I Want Candy" (2007) and "Grow Your Own" (2007). He also appeared in the Ágústa Eva Erlendsdóttir thriller "City State" (2011) and the Michelle Williams dramatic adaptation "My Week With Marilyn" (2011). Most recently, Jackson acted in "Spike Island" (2015) with Emilia Clarke.
Photos
GROW YOUR OWN, Philip Jackson, 2007. ©Pathe Films
GROW YOUR OWN, Sarah Hadland, Philip Jackson, 2007. ©Pathe Films
GROW YOUR OWN, Philip Jackson, Omid Djalili, 2007. ©Pathe Films
I WANT CANDY, Lorena Linx, Philip Jackson, Eddie Marsan, 2007.
A LITTLE TRIP TO HEAVEN, Philip Jackson, Iddo Goldberg, 2005
BRASSED OFF, Philip Jackson, Sue Johnston, Peter Martin, 1996, (c)Miramax
GIVE MY REGARDS TO BROAD STREET, (l-r): Bryan Brown, Philip Jackson, John Salthouse, Amanda Redman, Marie Collett, Paul McCartney, 1984, TM and Copyright (c)20th Century Fox Film Corp. All rights reserved.
INTENDED, Philip Jackson, Janet McTeer, JJ Field, Tony Maudsley, 2002
INTENDED, Philip Jackson, Brenda Fricker, 2002
LITTLE VOICE, Ewan McGregor, Philip Jackson, 1998, (c) Miramax
PETERLOO, PHILIP JACKSON (STANDING, LEFT), NEIL BELL (BLUE JACKET), JOHN-PAUL HURLEY (FRONT, CENTER), RORY KINNEAR (HAND UP), 2018. PH: SIMON MEINS/© AMAZON STUDIOS