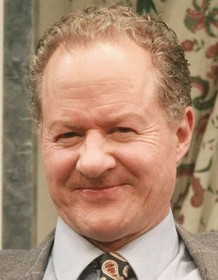 William Hope
Highest Rated: 100% Burton and Taylor (2013)
Lowest Rated: Not Available
Birthday: Mar 2, 1955
Birthplace: Montreal, Quebec, Canada
A busy working actor since 1981, William Hope is perhaps best known as Lt. Gorman in the 1986 sci-fi sequel "Aliens." Leaving his native Canada as a teen to study theater in London, Hope then headed west and secured roles in films such as "Scanners" and "The Lords of Discipline." His breakout part in "Aliens" led to work in "Hellbound: Hellraiser II" and a string of TV appearances. Meatier roles came later in Vin Diesel's "xXx," 2003's "Labyrinth," and 2009's "Sherlock Holmes," followed by series work in "MI-5" and a cameo in Tim Burton's "Dark Shadows" in 2012.
Photos
ALIENS, FROM LEFT: BILL PAXTON, PAUL REISER, TREVOR STEEDMAN, CYNTHIA SCOTT, JENETTE GOLDSTEIN, MICHAEL BIEHN, SIGOURNEY WEAVER, MARK ROLSTON, RICCO ROSS, DANIEL KASH, LANCE HENRIKSON, WILLIAM HOPE, COLETTE HILLER, AL MATTHEWS, 1986, TM & COPYRIGHT © 20TH CENTURY FOX FILM CORP. ALL RIGHTS RESERVED.
ALIENS, Bill Paxton, Paul Reiser, Tip Tipping, Cynthia Scott, Jenette Goldstein, Michael Biehn, Sigourney Weaver, Mark Rolston, Ricco Ross, Daniel Kash, Lance Henrikson, William Hope, Colette Hiller, Al Matthews, 1986, TM & Copyright (c) 20th Century Fox F
ALIENS, William Hope, Lance Henriksen, Paul Reiser, Michael Biehn, 1986. TM and Copyright © 20th Century Fox Film Corp. All rights reserved..
DARK FLOORS, (aka DARK FLOORS: THE LORDI MOTION PICTURE), from left: William Hope, as Jon, Dominique McElligott, as Emily, 2008. ©Ghosthouse Underground
DARK FLOORS, (aka DARK FLOORS: THE LORDI MOTION PICTURE), from left: Noah Huntley, as Ben, William Hope, as Jon, Leon Herbert, as Rick, 2008. ©Ghosthouse Underground
DARK FLOORS, (aka DARK FLOORS: THE LORDI MOTION PICTURE), from left: Ronald Pickup, as Tobias, William Hope, as Jon, 2008. ©Ghosthouse Underground
DARK FLOORS, (aka DARK FLOORS: THE LORDI MOTION PICTURE), from left: Ronald Pickup, director Pete Riski, William Hope (front), on set, 2008. ©Ghosthouse Underground
DARK FLOORS, (aka DARK FLOORS: THE LORDI MOTION PICTURE), from left: Leon Herbert, as Rick, William Hope, as Jon, Skye Bennett (front), as Sarah, Noah Huntley, as Ben, Dominique McElligott, as Emily, 2008. ©Ghosthouse Underground
DARK FLOORS, (aka DARK FLOORS: THE LORDI MOTION PICTURE), William Hope, as Jon, 2008. ©Ghosthouse Underground