The Hero: Love Story of a Spy
(2003)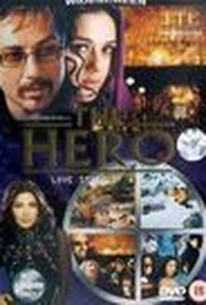 Movie Info
Arun Khanna is a super-spy who is sent to Kashmir to check cross-border terrorism. There he meets Reshma, a young local maiden who falls for him. She is sent to Pakistan to spy on the activities of ISI head Ishak Khan who wishes to make a nuclear bomb and demand the liberation of Kashmir. Arun and Reshma get engaged but their engagement party is torn apart by a bomb blast. Arun survives but Reshma is feared dead. Arun puts his past behind him and travels to Canada to search for Ishak Khan. He learns that Ishak Khan is being helped by a millionaire named Zakaria. He feigns love for Zakaria's daughterm, Dr. Shaheen, to get in touch with Ishak Khan. Meanwhile, unknown to Arun, Reshma is safe and sound and being treated by Shaheen herself. Will Arun give up his cover for the sake of his love? Will Reshma expose him for what he is?
Critic Reviews for The Hero: Love Story of a Spy
Audience Reviews for The Hero: Love Story of a Spy
½
Good movie. Interesting story plot. Great cast- Sunny Deol, Preity Zinta, Priyanka Chopra, and Amrish Puri. Worthy!
The Hero: Love Story of a Spy Quotes
There are no approved quotes yet for this movie.