Permanent Vacation
(1980)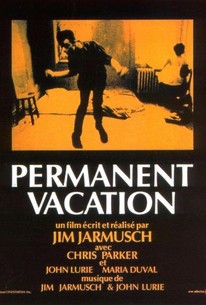 AUDIENCE SCORE
Critic Consensus: No consensus yet.
Permanent Vacation Photos
Movie Info
In this episodic little film, an alienated young man ambles about the lonely streets of Manhattan. There he meets an assorted people, visits his girl, and his mother who is sick. Each meeting is presented as a single vignette, separate from the others.
Critic Reviews for Permanent Vacation
All Critics (3) | Fresh (3) | Rotten (0) | DVD (1)
Watching this movie is one of the few tunnels back to a time and place where you could think. It's a groovy movie to think along to.
this student's film is surprisingly adult about its adolescent preoccupations - and well-nigh unmissable for the Jarmusch fan.
Audience Reviews for Permanent Vacation
½
Jim Jarmusch's first film seem more experimental than major compared to his other films. Permanent Vacation shows of Jarmusch's cinematic expression with poetic nature and calm atomosphere. The story Follows a young man his views in life and the world he personally live in, full of likable scenarios and and self discovery. The pacing may be a bit slow, but it a small film with a lot of potential and really shows off what Jarmusch did before his more superior features. Recomended for those familiar with Jarmusch's films.
Luke Eberhardt
Super Reviewer
One thing's for sure: Writer-director Jim Jarmusch relished long silences and deathly slow pacing from the start. "Permanent Vacation," his no-budget debut, lasts a mere 75 minutes but feels more like 175. There is no tangible plot -- only a ducktailed drifter named Allie (Chris Parker) who wanders around seedy New York, having light encounters with various subculture characters. Recurrent Jarmusch collaborators Sara Driver and John Lurie are among the cast, and Lurie also wrote the score. "Stranger than Paradise" fans (hopefully, this includes everyone?) will notice the two films have similar endings. "Permanent Vacation" is much more of an endurance test, however. Parker dominates the screen time yet, unfortunately, he may be the film's least interesting actor. His prime handicap is a thin, whiny voice that would quickly turn unbearable if not for him having so few lines. Really, the film's most notable aspect may be its sound. The score is dominated by odd, droning lines that sound like church bells ringing underwater, and low-flying planes and ambient noise often obscure the dialogue. The mix's chance imperfections are almost avant-garde.
Eric Broome
Super Reviewer
Good God was this a hard film to sit through. Conceptually, it's a good idea (a kooky dude aimlessly wandering around the dingier parts of lower Manhattan interacting with people as nutty as himself) in small doses or fragments, but to have the whole film be nothing but that...damn. Stranger Than Paradise had no real plot, but at least had some semblance of a structure. This is totally plotless and free form. I probably would have liked this more had I viewewed it in an altered state of mind. To put things in perspective though, it was made 100% on the cheap, is the essence of independent cinema, and was Jarmusch's first film, so some of this is forgiveable. It pretty much an intriguing student film that shows signs of creativity, even if things aren't completely there yet. This work heavily forshadows the future of Jarmusch's career, but I won't recommend this as a starting place for people wanting to get into his work. This is definitely for hardcore fans only.
Chris Weber
Super Reviewer
Permanent Vacation Quotes
There are no approved quotes yet for this movie.