Requiem
(2006)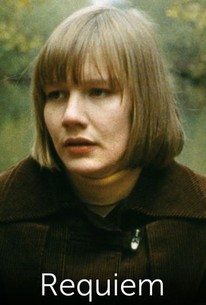 Movie Info
In a small town in 1970's southern Germany, Michaela, 21, has grown up in a deeply religious family. Despite her long battle with epilepsy, Michaela burns to leave home and study at the university. There, she experiences her first taste of freedom, her budding love for Stefan and her friendship with Hanna. Slowly, her protective shell of faith and family starts to crack open, but it results in her having a breakdown. Not a normal epileptic attack, but a frightening onrush of grotesque faces and voices. Afraid of being sent back home to her family, Michaela seeks help from a priest who reinforces her conviction that she is possessed. Although Stefan and Hanna encourage her to seek psychiatric help, they are unable to break through the dense religious and moral ties binding Michaela to her family.
News & Interviews for Requiem
Critic Reviews for Requiem
Audience Reviews for Requiem
½
a tragic clash of science and superstition inspired by the case of a mentally ill and very religious german girl who died under exorcism in the 70s. the film is understated and plays almost like a documentary
Stella Dallas
Super Reviewer
½
Don't see this expecting something in the vein of The Exorcist. There aren't any spinning heads or projectile vomiting and no sign of the demon Pazuzu here. Instead, Requiem is a non-sensationalized, non-judgmental look at what happens when mental illness clashes with religion. Based on the same case that inspired The Exorcism of Emily Rose, but the two films are different. Emily Rose focused primarily on a lawyer involved in a court case involving the Priest who performed the exorcism, while Requiem focuses on the woman and is a drama about what can lead someone to believe they are possessed. The topic of exorcism may be easy "go to" material for horror films, but Requiem is not a horror film and the director doesn't decide for us whether or not she is possessed, but instead lets us draw our own conclusions. Lead actress Sandra Huller is really great throughout the film and the handheld camerawork is a nice touch in making the viewer feel as if they are in the room alongside her family.
El Hombre Invisible
Super Reviewer
Like "The exorcism of Emily Rose" this film is (merely) inspired by the true events around Anneliese Michel in Germany of the 70s. A girl raised in strictly catholic terms battles with epilepsy as she is struggling to start a new life as University student. The grasp of her religious upbringing, especially in the shape of her mother, are pretty much choking her, creating an opposite reaction that leads to the church labeling her possessed, culminating in a series of unfortunate exorcism attempts. The film spares us the ugly details of those and reports about the outcome in a final info text. It doesn't give creed to the obsession-theory and therefore doesn't contain horror scenes of demons or anything like that. The movie also doesn't concentrate the blame on a single party involved and simply portrays a person who couldn't function under the pressure she got from many sides, despite of being loved by them none the less. It is the great acting that makes this slow and quiet film interesting and raises it above average. Especially Sandra Hüller in the main role does an extraordinary job.
Requiem Quotes
There are no approved quotes yet for this movie.