The Singer (Quand j'etais chanteur)
(2006)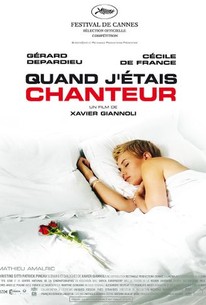 The Singer (Quand j'etais chanteur) Photos
Movie Info
A small-time crooner of sentimental ballads enters into a May-December romance with a fragile young real-estate agent in this low-key romantic drama starring Gérard Depardieu and Cécile de France. Fifty-something Alain (Depardieu) is something of a local celebrity in Clermont-Ferrand, and few nights pass when the popular singer-of-standards doesn't exit the stage until well into the morning hours. But karaoke is making singers such as Alain a rare breed these days, and it seems as if his days under the spotlight may be numbered. One night, while serenading the audience from the stage, Alain spots beautiful and unfamiliar blonde Marian (de France) in the crowd. Though he eventually her to meet him the following day, the cautiously guarded Marian remains curiously immune to his charm. Nevertheless, Alain's quiet persistence and self-depreciating humor eventually pays off, and the two soon find themselves strangely drawn to one and other. As fate would have it, Marian is currently employed at a real estate company owned by Alain's friend Bruno (Mathieu Amalric) - who also has eyes for the emotionally troubled young woman. Though Alain's ex-wife and current manager Michele (Christine Citti) doesn't discourage the ageing singer's relationship with the younger woman, her concern with his apparently-waning career soon prompts her to consider how she will spend her own future.
Critic Reviews for The Singer (Quand j'etais chanteur)
Audience Reviews for The Singer (Quand j'etais chanteur)
½
"Sometimes love can be found in the most unexpected places" Alain Moreau sings for one of the few remaining dance-bands in Clermont-Ferrand. Though something of an idol amongst his female audience he has a melancholic awareness of the slow disappearance of that audience and of his advancing years. He is completely knocked off balance when he meets strikingly attractive and much younger businesswoman Marion.
REVIEW
On the basis of this one film, Xavier Giannoli seems like a limited director, one who can coax a good performance from an actor--or simply stand out of the way when it's the monumental Depardieu--but who shows little sense of style or drama. I lost count of the number of scenes that go nowhere, that serve only to bring out another of Alain Moreau's foibles. Why does the singer have to share scenes with a goat, for heaven's sake? Poor Mathieu Amalric: here's one of the most interesting actors in France, and his character can only open doors and make introductions. Gerard Depardieu is splendid, it's one of his five best career performances. He's entirely at ease, spinning his stories to the enchanted but watchful Cecile de France. To play Marion, she has had to turn down the Audrey Hepburn gamine quality; she's very effective in a few scenes.
Lorenzo von Matterhorn
Super Reviewer
½
Nice movie about a much older man with a past who falls for young woman who doesn't fall for his charms. Both are sad characters who come to help each other in a strange sort of way.
Nicki Marie
Super Reviewer
½
Simple and complicated, very engrossing. It's really interesting to see the life of these kind of singers. It's really sweet too and sad.
Patrick Dolan
Super Reviewer
The Singer (Quand j'etais chanteur) Quotes
There are no approved quotes yet for this movie.