Screamers
(2006)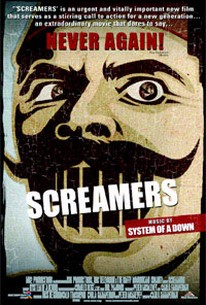 Movie Info
This documentary feature examines the history and politics of genocide in the 20th and 21st centuries. Through the rock band System of a Down's personal campaign to stop all genocides, Pulitzer prizewinner Samantha Power, survivors and whistleblowers, the film examines the Armenian genocide in 1915 and its links to the Holocaust, Rwanda, Bosnia, the Iraqi Kurds and today's genocide in Darfur. The film shows how successive U.S. presidents and corporate interests have conspired to turn a blind eye to genocides as they are happening. We say 'never again' but we don't mean it.
Critic Reviews for Screamers
Audience Reviews for Screamers
A documentary about the Armenian genocide of 1915 and the fight to have it acknowledged by the U.S. and U.K. governments. The film focuses in particular on the activism of the heavy metal band System of a Down regarding this issue. In particular the film focuses on the importance of acknowledging history, on the issue of genocide in general, and the challenges that governments face when addressing genocides. The film?s ultimate message is that the world must be completely ill-equipped to deal with the type of genocide going on today in Darfur if they cannot even acknowledge something that occurred 90 years ago. The film does feature extensive interviews with System of a Down and some concert footage, it was probably made to reach fans of the band (like myself), but it mostly stays focused on their activities related to the issue at hand. It?s about 30% SOAD, and 70% completely unrelated discussions of the genocide, which is probably just the right ratio.
Screamers Quotes
There are no approved quotes yet for this movie.