It's a Boy Girl Thing
(2006)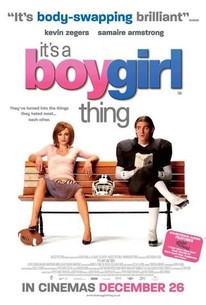 It's a Boy Girl Thing Photos
Movie Info
Two kids with nothing in common are brought together in a very unexpected way in this comedy. Nell (Samaire Armstrong) is a pretty but hopelessly geeky teenage girl who loves Shakespeare and wants little more than to study literature at Yale when she graduates from high school in a few months Woody (Kevin Zegers), who lives next door, is the quarterback on the school's football team, and seems like a sure bet to land a lucrative football scholarship despite the fact he isn't especially bright. Nell and Woody are not at all friendly and normally have nothing to say to one another, but one day during a class field trip to a historical museum, the two fall under the spell of an Incan icon and when they awake the next morning, Woody's mind is in Nell's body, and vice versa. Neither is comfortable with their sudden gender switch or having to assume the other's personalities, but they quickly realize that until they can find a way to reverse the spell, they have to work together if Nell is to go to Yale and Woody is to get his scholarship and move away from this loutish parents (Sharon Osborne and Maury Chaykin. Elton John was an executive producer on It's A Boy Girl Thing, and songs from his back catalog appear on the soundtrack. ~ Mark Deming, Rovi
Critic Reviews for It's a Boy Girl Thing
Audience Reviews for It's a Boy Girl Thing
It's the old switcheroo theme and it's as cliche as it can get. It's actually mildly funny and the characters are likable.
Characters and dialogue were boring. flat one-dimensional stereotypes. Nothing clever or original here. Surpisingly fun anyway.
Letitia Lew
Super Reviewer
Cast: Samaire Armstrong, Kevin Zegers, Sherry Miller, Robert Joy, Brooke D'Orsay, Sharon Osbourne, Maury Chaykin, Mpho Koaho, Dan Warry-Smith, Emily Hampshire, Kathryn Haggis, Genelle Williams, Jack Duffy Director: Nick Hurran Summary: A visit to a natural history museum proves catastrophic for high school rivals Nell (Samaire Armstrong), the overachiever, and Woody (Kevin Zegers), the jock, when an ancient Aztec statue casts a spell that causes them to switch bodies. Now, the pair is forced to experience life from a different perspective and see exactly what it's like to walk in the other's shoes. My Thoughts: "I thought this movie gave a nice spin to Freaky Friday. It was funny, cute, and entertaining. I laughed throughout it. It was predictable as most of these teen comedies are, but it was just a fun movie to watch. I would watch it again. There is the jock, the smart nerdy girl, the head cheerleader, the jock sidekick, and the girl who wants to be popular and noticed. So its your average teen high school movie just with a twist. Although, I was surprised to see Sharon Osbourne having a role in this movie. She plays the jocks (Kevin Zegers) mother. She was mediocre. Not bad. All in all it was a good comedy high school flick."
♥˩ƳИИ ƜѲѲƉƧ♥
Super Reviewer
It's a Boy Girl Thing Quotes
There are no approved quotes yet for this movie.