Molière
(2007)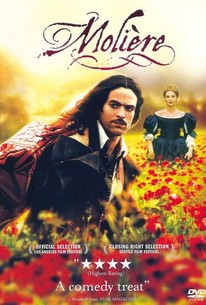 Movie Info
In 1645, the French playwright and actor Jean-Baptiste Poquelin -- better known as Molière -- mysteriously disappeared for several weeks, and this lavish comedy drama imagines a scenario that could explain what may have happened to him. At this time, Molière (Romain Duris) is touring the French countryside with his traveling theater company, and he's yet to be recognized as one of the continent's great authors (or achieve significant financial success). Molière is put in jail after skipping out on some unpaid debts, but is freed after his fine is paid by two strangers. Molière discovers his benefactors are acting on behalf of Jourdain (Fabrice Luchini), a very wealthy man who has a beautiful wife, Elmire (Laura Morante) and two lovely daughters. However, Jourdain has fallen head over heels for Celimene (Ludivine Sagnier), a gorgeous widow, and he's written a short play in order to demonstrate his feelings for her. Jourdain needs someone to help him polish his script and serve as an acting coach, and he's recruited Molière for the job. Needing the money, Moliere accepts, but he poses as a man of the cloth, Monsieur Tartuffe, to keep his identity a secret. Molière soon realizes that Jourdain's talent exists only in the rich man's imagination, and that Jourdain already has a rival for Celimene's affections, the charming but duplicitous Dorante (Edouard Baer). Molière was written and directed by Laurent Tirard. ~ Mark Deming, Rovi
People Who Like this movie also like
News & Interviews for Molière
Critic Reviews for Molière
Audience Reviews for Molière
As someone else said somewhere, magnifique! This was like watching a Moliere play. All of the elements he later used are here. The actor disguised as a priest. The dilletante husband. The beautiful wife. The tutors for every subject then in vogue. The daughter who secretly loves the boy next door. The servants who turn a blind eye to the shenanigans around them. It's all there. As was shown at the end, after Moliere toured the countryside for many years, he returned to Paris and staged the comedic plays that this movie posits he lived during the historically unexplained absence of two years. Watch this and you may learn more about Moliere and his plays than you realize.
Mark Abell
Super Reviewer
½
[font=Century Gothic]"Moliere" starts in 1658 with playwright and actor Moliere(Romain Duris) leading his acting troupe to a triumphant return to Paris after perfomring throughout rural France for years but he aims to do more serious plays than his usual farces.(So, I guess you could say he was a 17th century Woody Allen, minus the space aliens.) 13 years earlier, he was not so fortunate as he was arrested for debts unpaid but is rescued by Jourdain(Fabrice Luchini), a wealthy merchant, who assumes his debts in exchange for his theatrical coaching to win the hand of Marquise Celimene(Ludivine Sagnier). At the first opportunity, Moliere makes a break for it but is simultaneously deterred by a very large dog and enchanted by Jourdain's wife(Laura Morante)...[/font] [font=Century Gothic][/font] [font=Century Gothic]"Moliere" is a misguided and awkward attempt to explore the creative process. Well, at least it looks great. Maybe, it would have helped if I knew more about the life and works of Moliere. What I can sense is that he was some kind of comic genius. Ironically, the film is at its weakest when it tries to be funny while the serious parts are not half bad, as long as they are allowed to maintain some kind of momentum. Under such conditions, a good cast can do little to help. Ludivine Sagnier comes closest to succeeding but even Laura Morante cannot shine with material like this. And it is especially strange considering Fabrice Luchini was on similar ground several years back in "Beaumarchais the Scoundrel."[/font]
Entertaining period comedy with beautiful sets and engaging acting. It tells the story of French playwright Molière's early days, as if they were indeed as farcical as his plays. C'est très drole!
Ross Collins
Super Reviewer
Molière Quotes
There are no approved quotes yet for this movie.