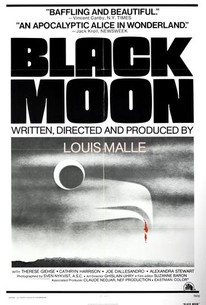 Black Moon
1975, Fantasy, 1h 40m
10 Reviews
1,000+ Ratings
Rate And Review
Movie Info
A host of bizarre characters dominates a tale about a girl (Cathryn Harrison) on the run from warring forces in a futuristic country.
Audience Reviews for Black Moon
There is a lot of surreal, opaque imagery and many mind games with no chance at winning. This is the crazy French movie, 'Black Moon', by Louis Malle who teams up with genius Sven Nykvist, which results in a visual fairytale like 'Alice In Wonderland' for the art crowd, for lack of better comparisons. It was hard to let 'Black Moon' end, I was in awe of the elegance of the picturesque images Nykvist makes sure are perfect with every frame with muted colors, tracking shots with a nitrous boost (well one shot, anyway), close-ups, and of course lighting and compositions to rewind for - this movie's visuals are superlative. 'Black Moon' is in the tradition of Bunuel so naturally it's not for everyone. I loved it - it still has me asking questions and the images will not be leaving my head anytime soon.

Black Moon is the theatrical realization of an apocalyptic dream conceived by Louis Malle featuring the most bizarre: a war, a senile woman, a bevy of naked children, and a unicorn. A surreal escape. Eccentric.

A young woman flees a shooting war between the sexes and holes up at a farmhouse with a bedridden old woman, a brother and sister both named "Lily," a bunch of naked children, and a unicorn. Pure surrealism is hard to pull off at feature length (even Bunuel and Lynch rarely attempted it). Louis Malle proves not to be up to the challenge, either, though there are some good individual moments (who wouldn't love the unicorn)?

I'm a little surprised that more people aren't aware of this surrealist film of the mid 70's, but since it's been released by Criterion recently I think that is going to start to change in the near future. It follows the travels of a girl in a post apocalyptic 'war of the sexes' type scenario. She finds refuge at an old house and this is where the weirdness begins. She encounters naked children chasing after a pig, a bed ridden mother who is breast fed by her daughter, a son who is mute except when hes singing opera, and a talking unicorn. The film intresting, bizarre and original for sure. Not as engaging or entertaining as you might hope but worth seeing as it is unlike anything else you are likely to see anytime soon.
See Details