Laaga Chunari Mein Daag - Journey of a Woman
(2007)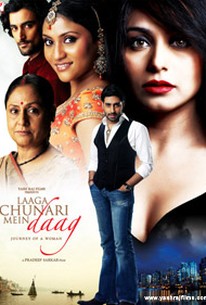 AUDIENCE SCORE
Critic Consensus: No consensus yet.
Movie Info
Badki and Chutki live a fun-filled life in Banaras, playing pranks, sneaking off to see a forbidden mujra, and soaking up all the excitement that goes on the ghats of the Ganga. Badki is aware that the family is in dire straits, but she and her mother protect Chutki at all costs. When things get worse, Badki decides to go to Mumbai and seek a living for the family. Alone and unsupported in the midst of the urban jungle of Mumbai, Badki battles with dark forces, keeping her focus on her purpose to support her family and continue Chutki's education. She deliberately morphs into someone else, leading a secret life full of murky compromises. When Chutki comes to Mumbai to work, things take a dramatic turn. Badki's life turns into a minefield, as she has to hide her secrets from Chutki. Chutki finds success at work, and love that delights her heart. Badki finds the magic of love, but lets it slip away before it can blossom, as she believes it's not in her destiny. She battles menace and blackmail alone, not letting these dark shadows fall on Chutki or her family. But her dual life is revealed, and the two sisters are face to face, in a confrontation neither had expected. And when love beckons Badki again, the whole family is thrown in a tumultuous storm.
Critic Reviews for Laaga Chunari Mein Daag - Journey of a Woman
Audience Reviews for Laaga Chunari Mein Daag - Journey of a Woman
This is, by far, one of the most remarkable drama that has moved me instantly to tears. Here is a movie that follows and reflects a bit upon the social injustice of women, and slightly marks upon how cruel circumstances can become when a woman has to take make an ultimate decision between morality and dignity of self and basic human necessities for others, in particular family. This movie reflects one woman?s journey from exiting childhood and entering adulthood. One that brings responsibilities, duties, sacrifices, and innocence loss at a great cost, and Vibhavari Sahay had to make that decision all alone without completely losing herself in the process. As her family endures hardships one right after another, Vibhavari had to enact as the ?worthy son? her parents never had and assume all financial controls of the family situations: providing for her younger sister?s education, paying for her father?s medical bills, upholding the repairs in the family home, and the legal expenses within a family dispute between her father and a lost elder son whom believes the home is rightfully his. Vibhavari decides to travel to Mumbai for work, so that she can uphold her promise to her parents. As she leaves home without the support of her father, she spends each day trying to obtain a job with good pay and a home to return to each night. As all else fails, she is presented with a choice that will change her forever and further separate herself from family, values, and home. In her acceptance of this choice, she pays the ultimate price and decides that her path in life will not be that of which she has always dreamed about. Her harsh reality is that of being the financial provider to her family, upholding her strong security as a woman, and that of being true to herself when others can be cruel. In the process, she learns that she is still a person to be loved and cherished, and still a daughter and a sister (regardless) as well as a woman worthy for happy marriage. Great cast- Rani Mukherjee, Jaya Bachchan, Konkona Sen Sharma, Anupam Kher, Abhishek Bachchan, and Kunal Kapoor. Great performance by Hema Malini. Definitely worthy!
Laaga Chunari Mein Daag - Journey of a Woman Quotes
There are no approved quotes yet for this movie.