Splinter
(2008)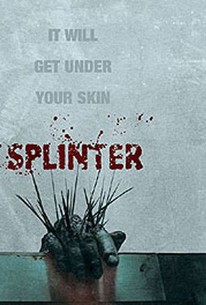 Movie Info
A young couple retreats to the wilderness for a romantic camping weekend, but their idyll is shattered when they are car-jacked by an escaped convict and his girlfriend on the run from the police. As the foursome travel the back roads together, each plotting their next move, they find themselves in deeper trouble than any of them could have imagined--a blood-crazed, parasitic creature that absorbs the corpses of its victims has laid claim to the woods, and the two couples are now in its sights. Finding shelter at an abandoned gas station, they must use their wits and every weapon at their disposal to stave off the onslaught, not only from the insatiable creature, but also each other.
People Who Like this movie also like
News & Interviews for Splinter
Critic Reviews for Splinter
Audience Reviews for Splinter
[img]http://images.rottentomatoes.com/images/user/icons/icon14.gif[/img] It comes to me as a surprise that the filmmaker behind this wonderful B movie is the director of the dull and depressing in the wrong way "Grudge 3". Because Splinter's postmodern grindhouse, monster movie throwback conventions construct one of the best of the retro horror flick throwbacks we've grown accustomed to. To describe the plot without laughter would be an impossible task, but watching the film is a completely different story. The brilliantly shaky camerawork fits the downright insanity of how the film plays out, even if at times it is used too often. However what made Splinter work for me was the creature, though silly when you think about to tell the truth it is actually quite intimidating. I am certain this is destined to become a cult favourite, and it has already caught a huge fan. The CGI for the most part is convincing, mixed with the 80's style prosthetic the design is pulled of perfectly to make a creature that had the potential to make "Cabin Fever" a whole lot more interesting. The acting is also surprisingly decent, and the soundtrack is blood pumping and incredibly fitting. As with most of todays horror films the cinematography is a stylish visual delight. Despite all of it's credit audiences may be turned off by the deadpan preposterous of this scroungy no nonsense disease/infection horror. I however eagerly anticipate the things director Toby Wilkins will have to offer us in the near future. Easily one of the most entertaining horror films i've seen in a while.
Directors Cat
Super Reviewer
Intimate little horror film that happens mainly at a out-of-the-way gas station. A foursome is stranded ... and the station open, yet unattended. For its size surprisingly effective with plenty of tension.
Kevin M. Williams
Super Reviewer
Splinter is one awesome horror film. Original, inventive, scary and fun, Splinter captures the essence of what used to make Horror such a great genre of film. Director Toby Wilkins has created quite possibly a future classic of Horror. Some people say that this film lacks a back story, however maybe this will be explored in a sequel? Who knows? It's true that the story leaves a few questions unanswered, but usually the questions are answered with a sequel. Toby Wilkins's Splinter is one blood soaked good time. For an Indie Horror film, the acting and story are overall excellent. Also worth mentioning is the incredible effects used in the film. The filmmakers did not use any CGI effects, these were all old school style effects, almost in the style of Rob Bottin, Tom Savini and other great Special effects artists. I thought it was a great touch to the film, and it was very impressive to see on screen. If Toby Wilkins keeps this up, he can become one of the few talented directors who can actually reinvent Horror, and maybe bring it back to it's former glory. Splinter is so good that you can forgive Toby Wilkins for making The Grudge 3. Though not a groundbreaking film in the genre, Splinter does something that is much needed in the genre, and thats making the Horror genre fun again for the Horror fans. Despite it's flaws, you can overlook them because Splinter is a well crafted film with a good enough cast and terrific special effects. The formula for this type of film has been done before, sure; but we can ignore it because Splinter definitely delivers on everything it promises. A fine horror film, Splinter is definitely a step above all those generic Hollywood remakes that don't bring us anything new, except for bad teen actors trying to make it big. Consider this film as an alternative to remakes, you'll have a bloody, gory good time.
Splinter Quotes
| | |
| --- | --- |
| Polly Watt: | How is this helping exactly? |
| Dennis Farell: | Jesus, lady, help can't even help us! |