Polytechnique
(2009)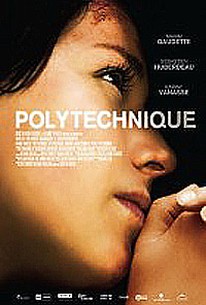 Movie Info
Inspired by the tragic school shooting that took place at Montreal's Polytechnique school on December 6, 1989, director Denis Villeneuve's melancholy docudrama portrays the events as seen from the perspective of two students, Valérie (Karine Vanasse) and Jean-François (Sebastien Huberdeau). When an armed madman enters the school with the intention of killing as many females as possible, the lives of every student involved are forever changed. ~ Jason Buchanan, Rovi
Critic Reviews for Polytechnique
Audience Reviews for Polytechnique
½
An unflinching, bleak, shockingly frank account of the 1989 Polytechnique School massacre in Montreal. Director Denis Villeneuve's film is a stunning feat of cinematography, and aptly displays the sense of dread and quite intensity he'd later drop on audiences in his 2013 thriller "Prisoners. "The film expertly brings these horrifying events back to life (rendered all too real at times), only stumbling during a couple of character developing flashbacks and flash-forwards that break immersion and seem a little out of place and overlong. The ending may also feel a little tidy for some, but I thought it was a good contrast and unexpected in a film most existential. By it's very nature, "Polytechnique" is a film most will deem pointless or unwatchable, but Villeneuve proves (like Van Sant with "Elephant" before him ) that film can find power and resonance in even the darkest of subjects. A strong film for those willing to not look away.
Dennis Villeneuve's retelling of the December 6, 1989 massacre at L' École Polytechnique de Montréal. This is a disturbing picture that plunges the viewer deep in the drama of the massacre. This is a superbly acted film that the tragedy in a subtle, respectable and doesn't intend to disrespect the memory of the 14 women that were murdered. Dennis Villeneuve is a great filmmaker and he treats his subject in a unique way. This is a film that can stir up some emotions of course, and most all debate. I believe that this is an important film that is very well done and told in such way that you will walk away from it and think about how things horrible tragedy could have occurred. The performances stand out, and the lead actor who plays Marc Lépine (the killer responsible for the shooting) is brilliant and menacing. Polytechnique is a film that illustrates how far someone can go when they filled with pure hatred, and Villeneuve captures that brilliantly through his camera. This is not a picture that should be seen by everyone as it is a hard film to watch, but at the same time it is a necessary one to watch so we can all learn from it, and prevent other such atrocities to ever happen again. The 14 women that lost their lives did not deserve that faith. No one deserves to be murdered like this, no matter if they're male or female. This is one of the most depressing films that I have seen in quite some time, and when the carnage that was unleashed on-screen ended, I was fairly shaken up. Polytechnique is a well directed drama based on one of Canada's greatest tragedy. If you do decide to watch this, be warned that this is a raw, intense film that plunges the viewer directly into the carnage in an unflinching manner. Brilliantly told, this is one of those films that due to the subject matter, doesn't warrant multiple viewings.
The re-creation of the massacre is quite efficient, depicting the shocking brutality of the real incident, but the film suffers from an irregular narrative diluted by flashbacks and jumps in time. Besides, the characters are not too well developed and the resolution is disappointing.
Carlos Magalhães
Super Reviewer
Polytechnique Quotes
There are no approved quotes yet for this movie.