ExTerminators
(2009)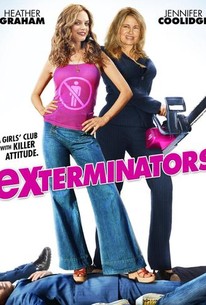 AUDIENCE SCORE
Critic Consensus: No consensus yet.
Movie Info
Heather Graham headlines this dark comedy about a lonely accountant who befriends a sociopathic dental technician and the unstable owner of a small extermination business while participating in court mandated rage therapy. Alex (Graham isn't the type of girl to go postal, though after a particularly disturbing act of violence she's sentenced by the court to enroll in a rage management class. Attending the same class is Stella (Jennifer Coolidge), a small business owner who recently tried to run down her husband, and Nikki (Amber Heard), whose angelic face masks her malevolent true nature. Together, Alex, Stella, and Nikki attempt to focus their contempt for the world into something functional by launching their own "silent revolution."
Critic Reviews for ExTerminators
Audience Reviews for ExTerminators
½
"It was a movie that I watched to pass the time. Plus I like Jennifer Coolidge. I think she's a riot. I liked her in this too. I have a hard time liking Heather Graham in movies. It's not that she's a bad actress, oh wait, yes she is. But it's also that she comes off, how do I say this kindly... a flake. I think that's how to describe her best. I just can't take her serious in anything she does. She annoys me and just can not act. I like Amber Heard. I don't know what she's doing in this movie, but her and Coolidge made this watchable. The script is bad, most of the acting is bad, and the maybe with a better directing and writing this could have been something worth watching again."
♥˩ƳИИ ƜѲѲƉƧ♥
Super Reviewer
ExTerminators Quotes
There are no approved quotes yet for this movie.