The Apple
(1980)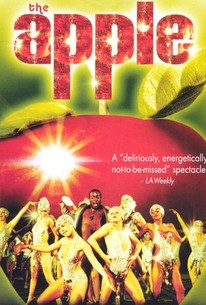 Movie Info
Unleashed just as the disco phenomenon had peaked and was slipping out of public favor, this one-of-a-kind pop musical is set in 1994, when a Mephistophelean entrepreneur named Mr. Boogalow (Vladek Sheybal) controls the international recording industry through the Worldvision Song Contest. Boogalow's wildly theatrical protégés, a decedent dance-pop group called Bim, seem a sure bet to walk off with the grand prize and worldwide fame, but at the last minute Alphie (George Gilmour) and Bibi (Catherine Mary Stewart), a folk duo from Canada, nearly steal their thunder with their song "Love, the Universal Melody." While Boogalow rigs a victory for Bim, he sees moneymaking potential in Alphie and Bibi and offers to sign them to a contract. Alphie, suspicious of Boogalow, declines, but Bibi leaps at the chance, and is soon remodeled into a stylish pop star while heart-broken Alphie throws in his lot with a gang of hippies living in the park. Bibi comes to regard fame and wealth as hollow and empty, but discovers walking away from Boogalow is easier said than done. Featuring an inarguably remarkable finale, The Apple was shot primarily in Germany, despite being set in the United States; while George Clinton is credited with writing lyrics for several of the original tunes, be advised it's not the same George Clinton who led Parliament and Funkadelic in the 1970s and '80s.
Critic Reviews for The Apple
Audience Reviews for The Apple
Do you love Bad Musicals? Disco Music? Canadian Pop Sensations? The futuristic world of 1994? The you my friend need to see The Apple.
Ken Stachnik
Super Reviewer
A great weird little musical, it's actually quite 70s feeling although it's from '80. It's very stylish, the story is good, and the music is great. I really liked this movie, and I highly recommend it.
½
An innocent pair of Canadian folk singers fall under the influence of a Mephistophelean pop music promoter in this futuristic (set in 1994) musical fantasy. An obvious attempt to replicate the campy underground success of THE ROCKY HORROR PICTURE SHOW; despite one of the most jaw-dropping endings in history, it's not half as bad as it's reputation suggests. The musical numbers are catchy, the easy to follow plot lifted from old MGM backstage muscials and dystopian lietrature, and the crazy psychedelic costumes and sets mean there's always something to look at.
The Apple Quotes
There are no approved quotes yet for this movie.