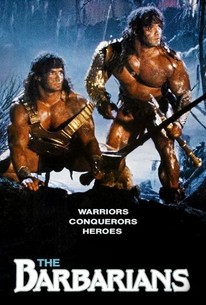 The Barbarians
1987, Adventure, 1h 27m
0 Reviews
500+ Ratings
Where to watch
Subscription
Subscription
Rate And Review
Movie Info
Medieval Kadar (Richard Lynch) orders muscle-bound slave twins Kutchek (Peter Paul) and Goro (David Paul) to fight each other to the death.
There are no critic reviews yet for The Barbarians. Keep checking Rotten Tomatoes for updates!
Audience Reviews for The Barbarians
Right so here we are with what appears to be, judging by the quite amazing poster, the [i]He-Man[/i] movie we all wanted? I mean come on, look at that poster! Drink it in my friends. Allow your eyes to slowly guide up and down the full length of this phenomenal piece and take in its majesty. Glorious, utterly glorious. But who the hell are these guys? Who is making up this duo of perfectly moulded glazed muscularity? Well the two leads are identical twins Peter and David Paul of the USA. These guys jumped on-board the trendy new muscularity bandwagon which was kicked off in the early 70's by Arnold Schwarzenegger, Lou Ferrigno, and Sylvester Stallone. As we all know Arnie and Sly virtually created the action-man-muscles gold rush of the 80's and this led to many many many clones and knock-offs, both in terms of movies and stars. Some took off (JCVD and Dolph Lundgren), and some did not. The Paul brothers (actually known as 'the barbarians') somewhat took off (briefly) with a little trio of tacky movies that were your typical tongue-in-cheek comedy trash that mainly focused on their massive size. 'Think Big' in 1989, 'Double Trouble' in 1992, and 'Twin Sitters' in 1994. It doesn't really take a genius to tell what these movies are all about, the clue is in the titles. Naturally all their movies required them to get topless for the most part...because muscles. Without this there is no movie. What I find amazing is how many of these muscle-bound stars have done flicks about looking after kids. So what happens in this low budget Italian Hyborean rip-off world? Well as youngsters the heroic duo are adopted by a gypsy-esque tribe (the Ragnicks) who are led by a Queen (Virginia Bryant) and guided by a weird-looking spiritual type called Ibar (Franco Pistoni). Then along comes the baddie warlord Kadar (Richard Lynch) and his stereotypical minions who slaughter most of the tribe because he's after some magical mcguffin that belongs to the Ragnicks Queen. Anyway the only reason for all this is simply Kadar wants to gain more power and...take over the world? Standard baddie plan really. The young duo are then dumped into slavery where they grow up into massively powerful barbarians, as you do. What follows is obviously the barbarians getting revenge on Kadar, oh and getting back the magical mcguffin and saving the now enslaved Queen. Standard hero plan really. Now I'm not gonna berate this movie completely, yes we all know its trash, but there are some positives here. Firstly The Paul twins do admittedly look really good in this movie. The fact you have twins who are identical in massive muscular physique is actually pretty unique, or was (everyone's a meathead these days it seems). These two really do look good dressed up in their barbarian attire. As already mentioned they do actually look very He-Man-esque with their chunky body armour and large weapons, more so than Lundgren did surprisingly. They could easily fit into any larger scale, more well-known fantasy flick with ease, visually anyway. And let me be clear, their bods do look highly impressive to boot. Not up to Arnie standard but its damn close if you ask me. They aren't as 'cut' as Arnie, Arnie was huge but with a narrow action-figure waistline. But in terms of solid bulk and bicep size, they are a sight to behold, especially when they both stand next to each other. I must also point out the general look of this movie, again its actually pretty good. The sets are clearly sets for sure but they still look quite good. Clearly much time and effort was spent in creating these sets and it shows. The slave arena and quarters inside of Kadar's city naturally look very Roman/gladiatorial in style but bugger me it all works, it all looks good. I laughed at the large raised platform that Kadar has his throne on which for some reason seems to be supported by slaves in a highly unstable way. Secret tombs and some forbidden land sets also look really atmospheric in a nice Sam Raimi kind of way. There is some good use of locations to add some much-needed depth to the proceedings; and the Ragnicks general appearance, attire and makeup wise, was also well done. I noticed the attire/headpiece for Franco Pistoni's character of Ibar is very familiar. Did George Lucas steal this idea I wonder? And finally kudos on the few monsters we see here. Firstly there is a wolfman warrior guy for some reason. He doesn't last too long and obviously the effect is basic but hey it's all makeup, prosthetics, and a bodysuit. It's real and not some shitty CGI effect, and bottom line it ain't half bad either. Then there is the dragon sequence. Now again it's basic but bugger me, credit where credits due, they tried and it's a good effort. A full-scale creation that looms out of a murky swamp? Yes please. The duo defeats the beast by cutting open its belly and going inside to reclaim the mcguffin (which the dragon had consumed with some baddie henchmen). Great stuff. But alas there is a multitude of obvious issues with this movie which can't really be listed for time purposes. But off the top of my head, why does the King and Queen of this fantasy realm roam around like gypsies? Why not actually set up shop with a proper Kingdom? Because they value entertainment for the people over security and riches? What a load of do-gooding crap! Kind renders the need of the magical mcguffin pointless too because surely Kadar can just wipe all these clowns out without magic. But wait! The magical mcguffin is basically a gem that enables power of...dance and entertainment? What?? A powerful gem passed on down from Queen to Queen that stores the skills of all who perform near it which in turn makes it even more powerful. Say what?? So why does Kadar want this again? To dance his troubles away? Also, whilst in slavery the heroic duo are unaware of the fact each has an identical twin. The baddies want it kept that way too just to be on the safe side. Yet the Dirtmaster (Michael Berryman) decides to have the duo fight each other for a grand spectacle (cos they are the best). So at no point did it occur to him that they might recognise each other? Yes they're wearing helmets but helmets can come off mate. Baddies are dumb, but in this movie the heroic duo is dumber (although on purpose). Anyway you get my drift here. Overall the movie is most definitely bereft of genuine quality but certainly not charm and enthusiasm from the all involved. Of course the plot is a cornball mess of overused cliches and stereotypes from the clone ridden barbarian/fantasy genre that was exhausted back in the early to mid 80's (Kadar has an evil mystical witch, played by Eva La Rue, as his second in command. Standard practice for all baddies). Of course the main leads can't act, but they know this and are clearly having a blast trying their best. Of course the movie cannot be taken seriously, but again everyone knows this and is on-board for the ride. Of course the Paul twins are soaked in oil for literally every minute of the movie. Of course George Eastman makes a cameo (standard practice for Italian rip-off flicks). And of course one of the Paul twins makes that really bizarre and annoying animalistic howl from his throat. What the feck is that about? Is that his calling card? This movie easily fits into the 'so bad it's good' category. Not exactly a must-see flick for regular moviegoers, but for any barbarian/Hyborean/fantasy fanboys out there it's well worth a butchers. And of course for any low budget Italian rip-off fans, it's probably worth a look also. Its better than 'Deathstalker' put it that way.
See Details