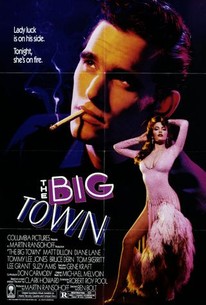 The Big Town
1987, Drama, 1h 49m
8 Reviews
1,000+ Ratings
Rate And Review
Movie Info
A lucky country boy (Matt Dillon) turns crapshooter in 1950s Chicago and falls for a gangster's (Tommy Lee Jones) stripper wife (Diane Lane).
Audience Reviews for The Big Town
"the big town" appears like a hommage to paul newman's 1961 "the hustler", an archetyped prodigal son tale people always enjoy to hear: a smug small-town boy with one special talent who hit big to the metropolitan city in his pursuit of fame and wealth, the essence of american dream, then he would bump into a lovely dame of maternal heart as well as the femme fatale who devours him alive with extreme sensuality. inevitably, he would sink into either booze or sex, or, both of them altogether. disillusioned, so he hits the road again to his home town with a broken heart. either he retracks to where he started or devastated by his presistant pursuit of dream. corny, right? but you just cannot quit it! whether it's the big-cocked dirk diggler in "boogie night", or billard master paul newman in "the hustler"...what counts is how the story is presented. "the big town" is predicable in every scenario but it's rendered so elaborately that you accept it with adoration anyway, especially when the fresh-faced matt dillion, who was one of the promising supernovella who's got sex appeal, charisma and most of all, genius of his fluent naturalistic actings which resurrect the remants of james dean, marlon brando and paul newman in their days of rebellious outrage, and dillion had the edge to pull them off in pratically any material about troubled youth, such as his "rumble fish"...he simply looks so damned attractive with a cigarette burning in his mouth, throwing a dice recklessly as if he's gonna win, he's got "the cool" to swoon you. it's a pleasant peep at the young, even more voluptuous diane lane as the femme fatale, and the sex scenes are surely a nice treat with elvis' "fever" in the background every time they mate. bruce dern as the obnoxious blind gambler boss and tommy lee jones as the tough-assed criminal, they're the villians alongside our prodigal charm-boy. every actor just fits into his/her part so seamlessly that makes this predictable story worth seeing. it's a compelling reminiscence of the hipster 50s with the best soundtrack of those songs which once hit the top notch of national sales. the process of viewing it is just one word to describe: smooth. paul newman's hustler has received the ruminations of his tragic flaw: excessive ego as his fingers are smashed and his sweetheart commits suicide for humiliation that leads him into finding his true self, "hustler" is more of a think-piece to tell you the doctrine that everything you gain easy has a price to pay. but dillion's dice-thrower just slides across the path of easy dough in the poise without harsh retribution as you wish for him. so "the big town" is more of a crowd-pleasing feel-piece without grits in a well-groomed nostalgic aura so all you've got to do is to flow along with protagonist like a 109 mins of hashish fantasy.

Have to give this one 4 Stars, I just can't believe I have never seen it till today. Matt Dillon plays an excellent part, and I will now read the book The Arm, which this film was made from. Reason I watched this is because of Suzy Amis, I am trying to see all films she played in, and she did a good job in this one playing the good girl role. Matt is a dice roller, making his living that way in Chicago, he meets Suzy and Diane Lane, and is trying to choose between the two, of course del is the bad girl, but I would have picked her anyway. Tommy Lee Jones was in this one and he play an excellent part. If you have passed this one up thinking its a junk film you couldn't be more wrong I was. You can find it in the $5.00 Bin at Wally World and the $3.00 Bin at Big Lots, Pick it up and be surprised. I was.
See Details