Black Christmas
(1974)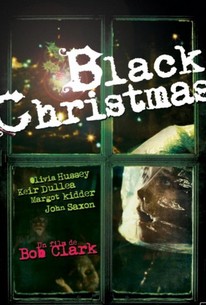 Movie Info
Black Christmas is an effective, frightening above average slasher movie with a good cast and a frightening, surprise ending. Barb (Margot Kidder) and Jess (Olivia Hussey) are lonely sorority sisters who are having a Christmas party in their sorority house during the Christmas break. Peter (Keir Dullea) is a mad-killer who terrorizes the women by making threatening telephone calls. As the body count mounts, the women realize that the killer may be in the house. Black Christmas, one of the first of the slasher pictures, is still frightening despite some plot devices which have now become standard and predictable. Director Bob Clark uses his excellent cast to great effect, and the script, written by Roy Moore, has some great plot twists and a good, scary surprise ending. Black Christmas has also been released as Silent Night, Evil Night and Stranger in the House.
News & Interviews for Black Christmas
Critic Reviews for Black Christmas
Audience Reviews for Black Christmas
best christmas movie ever
Stella Dallas
Super Reviewer
It's a shame that slasher genre and all it's settings and twists had become clichéd, because this movie established most of them for the first time. Although the dark humour, girls and some disturbing happenings make up for it.
Pierluigi Puccini
Super Reviewer
Creepy atmospheric stalk and slash classic. Not very graphic violence wise neither is there a huge body count either, but it's a very well made and put together little movie that proves to be very effective. It's also a christmas themed movie... love christmas movies! Those seeking a kill-a-minute gore drenched slasher with a mongloid faced killer look elsewhere.
Black Christmas Quotes
| | |
| --- | --- |
| Claire Harrison: | [about the obscene phone call] Could that really be just one person? |
| Barbie Coard: | No Claire, it's the Mormon Tabernacle Choir making their annual obscene phone call. |
Discussion Forum
Discuss Black Christmas on our Movie forum!