Blackmail
(1929)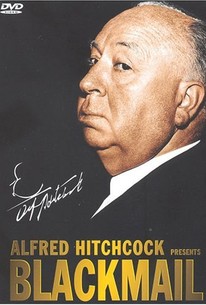 Movie Info
Alfred Hitchcock's first sound film utilized the new sound technology in a rather creative way off-camera. Hitchcock's lead actress, Anny Ondra, had a strong Eastern European accent that was difficult for English audiences to understand, so Hitchcock's solution was to have British actress Joan Barry speak Ondra's lines of dialogue off-camera. The film concerns a woman who kills a man who tries to assault her. Ondra plays Alice White who, while having dinner in a fancy English nightspot with her husband-to-be Scotland Yard Detective Frank Webber (John Longden), begins to flirt with an artist (Cyril Richard) seated at the next table. The artist invites her up to see his studio, and she goes but balks when the artist asks her to pose in the nude. When the request becomes a demand, Alice stabs him to death. She rejoins her fiance and tries to forget the murder, but her conscience keeps bothering her. To make matters worse, sniveling rat Tracy (Donald Calthrop) materializes to blackmail Alice for the crime.
Critic Reviews for Blackmail
Audience Reviews for Blackmail
½
Interesting film. Often considered to be the first British "talkie", even though it was originally shot as a silent film then re-shot with sound, with the exception of one of the highlights of the film: the first 8 minutes. It's a nice police procedural, and the transition to sound is cool too. Other highlights include the chase scene at the museum and the "knife" repetition scene. The film is extremely British with the way it feels, too. That's just an observation though, and not necessarily a good or bad thing either way. This film is really good, but not without it's problems. It hasn't aged well, and the A/V quality isn't the best, and from time to time the film drags, but the positives (the aforementioned highlights) plus the cinematography, music, and Anny Ondra's performance more than make up for them.
Chris Weber
Super Reviewer
½
The master in his early days. Even for his first talkie, his visual style is just as brilliant in 1929 as it would be in later years. Whether it be the use of a curtain to disguise some foul play, his immaculate use of shadows, of the way his uses the lights to illuminate a characters overwhelming guilt, Hitch suggests more with a few frames than most directors do in an entire film. While the pacing isn't as streamlined as it would be in later films such as the 39 Steps, it is still fascinating to see just how ahead of his time he was even in the dawn of his career.
½
Not Hitchcock's best by any means, but pretty clever for its time, and definitely a portent for the incredible work he was to produce. Alice was an idiot.
Drew Smith
Super Reviewer
Blackmail Quotes
There are no approved quotes yet for this movie.