Blood Feast
(1963)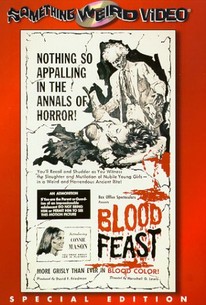 Movie Info
Crude exploitation filmmaker, Herschell Gordon Lewis strayed not a hair from his usual style (or lack of) with this gruesome feature. Attempting to evoke the spirit of an ancient Egyptian love goddess, a wacko freak-boy hacks up tender young girls to synthesize their various anatomical parts. Lewis served as director, cinematographer and composer for this David F. Friedman (Color Me Blood Red, Scum of the Earth) production. Friedman himself appears in the picture (uncredited) as a drunk.
Critic Reviews for Blood Feast
Audience Reviews for Blood Feast
The tagline is "nothing so appalling in the annals of horror history". Now I don't know about all of that, but for its age, it is pretty gory. Although the gore is a bit laughable, not to mention the dialogue, the acting...well pretty much everything...this is a fun watch.
Tim Salmons
Super Reviewer
Directed by Herschell Gordon Lewis and Starring William Kerwin, Mal Arnold, Connie Mason, Lyn Bolton and Scott H. Hall Not really going to write much so... I have always been a fan of Herschell Gordon Lewis and I have seen just about all of his gore films, My all-time favourite is Two Thousands Maniacs or A taste of Blood (Involving Vampires). What can I say about the world's first Splatter or Gore film? Well... It's incredibly crude and unprofessional from start to finish but I have always had a big-soft spot for this along with just about all his flicks. I am sure if anyone is into Vampire films they would love the 60s film A Taste of Blood. Or just people going crazy, Color Me Blood Red. I tend to still find it shocking that this movie came out in 1963 and audiences would go to drive-ins to see this film and be shocked about all the explicit blood, gore and violence, and all the sort of stuff you would see today in any standard Slasher film. [IMG]http://i53.tinypic.com/xn96ie.jpg[/IMG] In a suburban Miami house, a young woman arrives home and turns on her portable radio which broadcasts another murder, several within a few days. The woman turns off the radio and begins to take a bath. Suddenly, a gray-haired, wild-eyed man appears in the bathroom and brutally stabs the woman in her left eye, killing her. The man hacks off her left leg with a machete and leaves with it. This old man is Fuad Ramses (the 1st ) An Egyptian caterer who is brutally killing girls in Miami for his Blood Feast for the godest called Ister (Correction she is Babylonian not Egyptian). But not behind on his blood bath is a detective who is looking into every corner to find the murderer. [IMG]http://i54.tinypic.com/2yypjip.jpg[/IMG] Personally I liked the story it's nothing specular of creative just crude and awesome at the same time with all the 1960s gore. But too many the ending was a big surprize but I won't ruin the film. I can't believe there aren't many more fans out there of Herschell Gordon Lewis I feel like I am the only girl who likes this movie, strange hay? If you are from Japan and reading I hope I am not the only one. 80% for story: it's crude and downright not even near finished, It's the bloodbath that hides the errors, but still it's the first of its type so we won't see some masterpiece. I also think people hate to mention this is one of the top 10 most influential films of all time, because no doubt hundreds or even thousands copied this piece of work. 70% for acting: it's Shockley terrible but still...First of it's type, Give it a break I have seen so much worse. 80% for characters: There really bad and underdone but what can you do I guess? I think Fuad Ramses was my favourite character easy and he is also my favourite Slasher movie character because he is awesome and old and the first one. And the second best character in the film followed up by the detective. 80% for special effects: There shocking for it's time but overall over looked today likely because of how bad they look now and simple they were bad with Rapid Jump cut's, But it is still better than CGI I will always say they that. 70% for everything else: I had the soundtrack Lyric's as my ringtone a while back I know sad right? But overall Shot lighting, Bad sets and annoying echo's throughout them, but one awesome picture. By the end it's the worlds splatter first and it's interesting to see what it is like. And it is also one of my favourite horror movies. [IMG]http://i54.tinypic.com/35laz50.png[/IMG] Keiko's score 81-100
Wow, this movie is really creepy and gross. H. G. Lewis is the best in those areas, and this is another of his greatly disturbing, yet very low budget and humorous movies. It's pretty cool, check it out.
Blood Feast Quotes
There are no approved quotes yet for this movie.