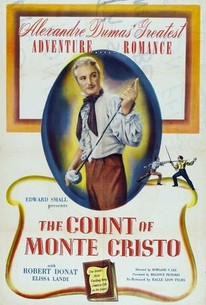 The Count of Monte Cristo
1934, Adventure, 1h 53m
7 Reviews
2,500+ Ratings
Rate And Review
The Count of Monte Cristo Photos
Movie Info
In the midst of the tumultuous Napoleonic era, Frenchman Edmond Dantes (Robert Donat) is charged with a trumped-up crime and sent to prison. But after years of confinement, he escapes, and in the process secures a vast fortune hidden away on the island of Monte Cristo, off the Italian coast. Rebranding himself as a man of nobility and means, Edmond aims to settle scores with traitorous former friend Mondego (Sidney Blackmer) and the others who took his freedom and his fiancée (Elissa Landi).
Audience Reviews for The Count of Monte Cristo
Nice adaptation of a good story. Donat is flawless as usual and the supporting cast does a great job too. I love the old swashbuckling films of the '30's and this one up there with Captain Blood and The Sea Hawk. Donat is really underrated.

somewhat melodramatic but still the best film adaptation of dumas' classic, a childhood fave of mine. <3 robert donat

"the count of monte cristo" is the first sound flick adapted from dumas' masterpiece. and it shows the versatile scale of the 39 steps legendary actor robert donat's potentiality for swashbuckler gendre, and also it is donat's first collaboration with hollywood. undisputedly robert donat's version is the best ever on screen. "the count of monte cristo" is alexander dumas' classic tale of chivalric avengence. donat plays dantes who has been wrongly accused of treason, and he vows to revenge due to the loss of his youth and his one true love, then he discovers the treasure of monte cristo so he purchases himself a status to cast doom to those who have mistreated him maliciously. it has the essence of swashbuckler as well as the confrontation of good and evil, but it's dubbed with a sense of solemnity instead of the errolesque frivolosity which populates in this gendre. the movie remains faithful to dumas' book and robert donat does have the knightly presence of enigmatic count and his elegance oozes from the sword duets and every suave phrase of his. the story is handled concisely to catch up the proper pace without over-sentimentalized melodramaticity despite its apparent tint of romanticism. eccentricly the mere approach for this flick to occur to people's sight would be the cameo in "v for vedentta" which is natalie portman's recent flick of dystopic graphic novel. "the count of monte cristo" becomes the parallelling comparison to the disfigured pratagonist's ruin of wretched betrayls. robert donat's accomplished performance in monte cristo earns himself an opportunity to take the lead in "captain blood" which leaves to errol flynn later. but donat turns it down becuz of his disdain for hollywood and his reluctance to shoot the production inside united states. donat is also one of hitchcock's fav leading men and hitchcock has scheduled three flicks in a row for him: "the 39 steps"," the secret agent" and "sabotage" but donat could only be in one due to his asthma illness and his dilemma of multi contracts. donat shall be one of the most talented, handsomest and mostly underused actors in britain who could have achieved superstardom. but he's tragically forgotten, so is his "count of monte cristo".

Loved it...and the eternal remakes. Great stories have a habit of making any movie.
See Details