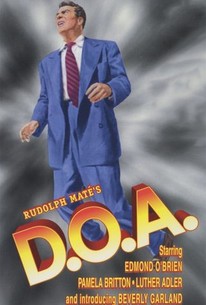 D.O.A.
1949, Crime/Drama, 1h 23m
25 Reviews
2,500+ Ratings
Where to watch
Rent/buy
Rent/buy
Subscription
Rate And Review
Movie Info
Frank Bigelow (Edmond O'Brien) is about to die, and he knows it. The accountant has been poisoned and has only 24 hours before the lethal concoction kills him. Determined to find out who his murderer is, Frank, with the help of his assistant and girlfriend, Paula (Pamela Britton), begins to trace back over his last steps. As he frantically tries to unravel the mystery behind his own impending demise, his sleuthing leads him to a group of crooked businessmen and another murder.
News & Interviews for D.O.A.
Audience Reviews for D.O.A.
There are some cringeworthy moments in this noir. For instance, there's a sequence where the protagonist sees multiple attractive women at a party and we hear the corniest wolf-whistles. In another scene, the acting with Edmund O'Brien and Pamela Britton, when they proclaim their love for one another has to be the worst over-the-top performances ever seen. But, overlook the blemishes. The premise is great and the ending won't cheat you.

1950, when this noir was made, was a long time ago (nearly 70 years as of this writing). The wolf whistles played whenever a pretty woman's onscreen (which I first suspected were included after the fact of the filming by some internet prankster), Neville Brand's over-the-top "I'm a craaa-zzzzy psycho" routine, much here seems dated now, but the suspense of watching a dead man search for his killer still packs a wallop. And makes for a good movie experience.

"I want to report a murder." "Who was murdered?" "I was." One of the great "grabber" openings in movie history doesn't disappoint, leading to a tense and fatalistic noir about a poisoned accountant searching for his own killer.

Age has done a real number on it, but "D.O.A." still stands as one of the great B noirs. Edmond O'Brien is pitch-perfect as Frank Bigelow, a man put up to the dubious task of solving his own murder. The plot is expertly messy and unravels in a fun yet ingenious way and the acting is top-notch. Even if it isn't pretty to look at it, "D.O.A." is solid entertainment.
See Details