Dolls
(1987)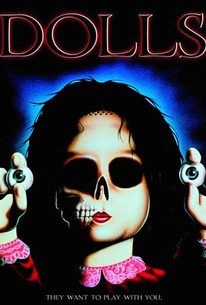 Movie Info
Young Judy Bower (Carrie Lorraine) is spending the summer with her stupid, abusive father, David (Ian Williams), and nasty stepmother, Rosemary (Carolyn Purdy-Gordon). On a dark and stormy night, their car breaks down on a lonely road in the woods and they are forced to seek shelter. As they walk, Rosemary throws Judy's beloved teddy bear into the woods, and the imaginative child envisions it coming to life as a great fanged beast which slaughters her tormentors. The idea of loyal toys protecting their young owners from the ravages of the adult world is forcefully made, and imbues the rest of the film. They come upon a creepy old house owned by elderly Gabriel Hartwick (Guy Rolfe) and his wife, Hilary (Hilary Mason). Gabriel is a doll-maker and dazzles Judy with his collection of exquisitely detailed creations. Another car breaks down in the storm as well, bearing amiable Ralph Morris and two trampy hitchhikers. What they and the Bowers don't know is that the dolls are alive, and protect the young (Judy) and the young at heart (Ralph) from the evils of adulthood.
Audience Reviews for Dolls
½
Yep found another doll film but this time from Bands Empire film company and not directed by the man himself. Surprisingly this doll flick is different from all the rest with its plot, this time its very much like a fairytale or even a Stephen King story. An old couple that make dolls in a big mansion in the middle of nowhere take in lost or stranded folk and shrink them down turning them into dolls depending on the persons character, if they're good or bad. So a slightly different spin with this film which is nice and gives it a fresher feel. The dolls are not weird looking killers either they are just normal looking old fashioned toy dolls from various periods, almost 'Pinocchio-like' in design style and feel. Cast is good in this too with the old couple being especially well performed, no one really well known but they all play their parts well enough too make the film seem much better than you'd expect. In fact the whole film looks good with decent well lit sets, dark hallways, plenty of shadows and the classic thunder and lightning gimmick, all giving the right atmospheric glow. Not really scary, the film has more of a 'Scooby Doo' creepy feel to it. Just right as its obviously hard to make killer dolls like this come across as genuinely scary.
Phil Hubbs
Super Reviewer
One of the better killer doll films, Dolls is a good film that relies on old ideas, but nonetheless work well due to great effects, creepy atmosphere and Guy Rolfe's performance. Add to that some very impressive special effects. Although nothing really new, this is a fun little film that generates some good scares. Of all the doll films I've seen, this film along with Tourist Trap are the best I've seen. The performances are questionable; however Guy Rolfe himself makes this film worth seeing. The film has its faults, but for the most part, it succeeds at delivering good enough scares to entertain any horror fan. The film's strength lies in Stuart Gordon effective directing. Even with the fact that this film is nothing new, it's still is very entertaining and lots of fun from start to finish. The film has its flaws, but it manages to one of those underrated, often overlooked gems of 80's horror. The film is silly at times, but there's enough going on-on screen to make this film standout. Stuart Gordon has made something very different from his previous work, Re-Animator, and he shows off his skills as a well rounded horror director that delivers one of the definitive killer doll flicks. The ideas are nothing new, but it still manages to be eerie, creepy and humorous at times. I really enjoyed this film, and I think it's a fine departure from Stuart Gordon's previous work.
Oh who doesn't love a good horror flick about evil dolls?! Really the dolls helped get rid of the evil in this old bed and breakfast.. it's so creepy and classic.
Alexis Nomm
Super Reviewer
Dolls Quotes
There are no approved quotes yet for this movie.