The Four Seasons
(1981)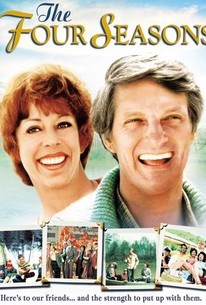 Movie Info
This film follows the trials of a group of middle-aged friends during a 12-month period. Alan Alda and Carol Burnett play a married couple who are the instigators of a series of vacations, which they take in the company of two other couples. Everyone's interrelationships are put to the test.
Critic Reviews for The Four Seasons
Audience Reviews for The Four Seasons
½
"are we having fun yet". that quote is this films lasting legacy and while its good i am not sure why it stuck. This movie feels a lot like a woddy allen movie with adifferentsense of humor. Its also probably meant for someone a little older then me.
Alex Wolf Rkc
½
LOVE Alan Alda and how he can make this movie yet it never grows old... the discussions and deep thoughts in this movie as well as the comic relief is wonderful! A True classic
Sherry Cowan
We all know that sinking feeling that comes as a friendship disintegrates. You're laughing and talking and then suddenly, you find yourselves irritatingly each other, in ways both merely irksome and genuinely hurtful. It's a feeling as inevitable as the changing of seasons. How fitting then that "The Four Seasons" devotes itself entirely to that feeling. Alan Alda (who also occupies the director's chair) plays Jack, the center of a gang of friends who traditionally spend vacations together. But through spring, summer, fall, and winter, things change. Someone gets divorced; someone else grows increasingly angsty; and a younger member of the group is made to feel unwelcome, solely because of her newness to the posse. In the end, tensions rise so high that Jack unleashes a burst of destructive violence, leading to a chaotic conclusion that is at once cathartic and dementedly joyous. By all means, this is a bitter pill to swallow. But as director, Mr. Alda helps it go down easily by inviting us to actually like these venomous characters. We moan over their mistakes, even as we know that put in the same position, our actions would be similar. Whether its flirting trecherously (and hopelessly) or shoot a friend down when they've opened up to us, we've all made some of the mistakes here. And what an interesting manner they are presented in--setting each act in a specific season grants the film a clear dramatic arc, yet a wonderfully intimate atmosphere. There is only one thing I regret--the ending. I have no problem with happily ever after, but the clash between the characters is so verbally murderous that seeing them singing in a jolly fashion seems like a dishonest coda. But perhaps that is the point--troubles are always lurking beneath the surface, and are rarely admitted to.
Ben Ferguson
The Four Seasons Quotes
There are no approved quotes yet for this movie.
Discussion Forum
Discuss The Four Seasons on our Movie forum!