Hell in the Pacific
(1968)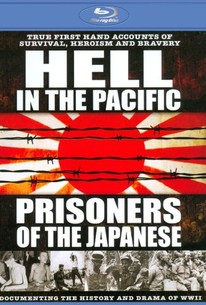 Movie Info
The entire cast of Hell in the Pacific consists of two high-powered international stars: Lee Marvin and Toshiro Mifune. The time is World War II. A downed American marine pilot (Marvin), is stalked on a remote Pacific island by a Japanese navy officer (Mifune). The Japanese officer captures the American, but this situation is reversed when he manages to wriggle free. The two enemies finally decide to live and let live, each moving to their own separate portion of the island. By and by the adversaries come to rely upon one another to survive; they set up living quarters in a deserted camp, get drunk together, and almost -- but not quite -- become friends. The present ending of Hell in the Pacific is greatly at odds with director John Boorman's original vision, in which the Japanese officer angrily kills two Japanese soldiers who have come across the American and decapitated him. As it now stands, viewers are left with an explosive "lady or the tiger" denouement.
Cast

Critic Reviews for Hell in the Pacific
Audience Reviews for Hell in the Pacific
½
Great concept, and as usual, John Boorman's execution is just as stellar.
this is a solid film. with only two actors in the entire film performances needed to be great to carry the movie, i felt that marvins performance lacked a little but mifune more than made up for it. the dynamic of the characters was great and the decision to not use subtitles in order to give the audience the same feel of confision that the characters felt was a great one. really good movie.
½
Highly disappointing, I'm not buying this as a classic. The only reason I watched this was for Mifune, but you never learn how they arrived or how long they've been on the island--you don't even learn their names. Lee Marvin is a bitch to Toshiro Mifune for some unknown reason, but Toshiro doesn't really have to exert himself this movie. I give it credit for the ending, though; it seems that every 60's adventure/scifi movie ends that way (La Jetee, Beneath the Planet of the Apes, etc). The last 20 minutes were more interesting than the entire first hour and a half, we finally start to humanize the story.
Hell in the Pacific Quotes
There are no approved quotes yet for this movie.