100 Proof
(1997)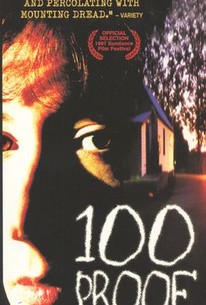 AUDIENCE SCORE
Critic Consensus: No consensus yet.
Movie Info
Based in part on an actual incident, the independent drama 100 Proof records one especially bad day in the lives of Rae (Pamela Stewart) and Carla (Tara Bellando), two tough but misused women living in a small Kentucky town. Rae and Carla get by through a combination of low-paying jobs, petty theft, and occasional prostitution, and often resort to drugs and alcohol to blot out the misery of their lives. Over the course of 24 hours, the two women con Arco (Jack Stubblefield Johnson) and Sissy (Minnie Bates Yancey), an elderly couple they've been hired to look after, out of their pension check; have a run-in with Rae's father (Jim Varney), a sleazy and abusive man who tries to pimp his daughter to his friends; score cocaine from a ne'er-do-well at the local store; and sink into a depression fueled by drugs that eventually explodes into shocking violence. 100 Proof was the debut feature for writer/director Jeremy Horton, and received strong reviews for its grim but true-to-life atmosphere and the performances of Pamela Stewart and Tara Bellando.
Critic Reviews for 100 Proof
Audience Reviews for 100 Proof
½
'100 Proof' in one word: "Disturbing." There seemed to be unfinished business in this movie that didn't get resolved. It didn't delve into the relationship between Rae and Carla. The ending raised more questions and had no answers to what happened after the shootings and what happened to Rae's father. I can see how suffering all the physical and mental abuse from her father would drive Rae over the edge but I felt it wasn't explained as thoroughly as it should have been. With that said, I'll admit that I had my reservations about watching this movie, mainly because of Jim Varney's role as an abusive, incestuous father. Curiosity won over my hesitation and I'm glad it did. Mr. Varney was truly the most gifted, multi-faceted actor I've ever had the privilege of watching. While he wasn't the star of the show and only had a small part, he completely outshone the other stars. His powerful on screen presence overshadowed Pamela and Tara's characters. With only a small role, he was able to steal the entire movie right out from under them. He completely blew me away with this role. To go from that affable, lovable funny man, 'Ernest P. Worrell' to Rae's father and every other character in between, and to do it so proficiently, is a rare talent indeed. If you grew up with Ernest P. Worrell, as I did, believe me, you will see absolutely no hint of that humble hayseed in this movie. How Hollywood pigeon-holed him into Ernest is beyond me. It's too bad it took them so long to remove the 'Ernest Blinders'. If Varney were alive today, you can bet he'd be acting circles around these so-called big name celebrities.
Stacy Avary
Super Reviewer
100 Proof Quotes
There are no approved quotes yet for this movie.