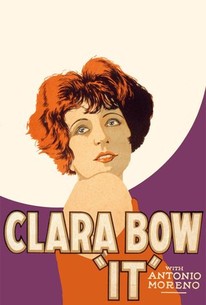 It
1927, Drama, 1h 12m
16 Reviews
2,500+ Ratings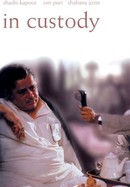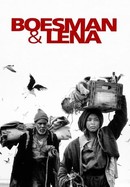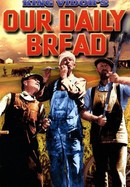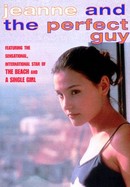 Jeanne and the Perfect Guy
Rate And Review
Movie Info
When she first sets eyes on her new boss, the wealthy Cyrus Waltham Jr. (Antonio Moreno), department store clerk Betty Lou Spence (Clara Bow) is convinced he's got "it," an indefinable quality that makes one irresistible to the opposite sex. Betty Lou charms her employer on a date, but Cyrus suddenly cools when he hears a false story that Betty Lou has mothered an illegitimate child. Crushed by Cyrus' assumption, the shopgirl ramps up the sex appeal to win her man back and teach him a lesson.
Audience Reviews for It
Clara Bow is an absolute delight in this film, and one can really see why it catapulted her into international stardom. Her face is so expressive and animated, displaying a wide range even in what is a pretty simple story, and it's clear that she has that certain indefinable something, that magnetism, that 'It" that the film is based on. I was especially tickled by her performance early on. She plays a saleswoman who falls for her employer (Antonio Moreno), and then uses his friend (William Austin) to get closer to him. She's simply charming in scenes ranging from making faces at a baby, to laying suggestively on top of her boss's desk on her tummy. The story is fairly standard, but it's well paced in its 72 minutes. Naturally, there is another woman involved, and there are also complications from the differing social classes that Bow and her boss come from, which is made worse when she has to stand up for her roommate in a way I won't describe. Watch it for Bow, who is fantastic.

This is an interesting romantic drama, which gives you a sense about relationships in the time period, but it is a predictable love story. There are some funny moments, but the movie could have been better.

It was a good classic, but not really a great one. Clara Bow was gorgeous.

Elinor Glyn, writer of risque romantic fiction in the early twentieth century, adapted her own story, appears as herself at The Ritz, and produced this picture. "It" is not just sex appeal. It is hard to define. One title card in this flick says It is, "self-confidence and indifference as to whether you are pleasing or not." The soundtrack is bouncy jazz age fun. There are quite a few title cards providing dialog, but they are brief and full of amusing figures of speech from the '20s. Clara Bow is Betty Lou, a girl of the era who is bursting with energy. She becomes infatuated with her department store boss Cyrus Waltham, played by Antonio Moreno. His bug-eyed nervous friend Monty (Austin) has been reading about "It" and decides Betty has It. Betty pretends to date Monty to get closer to Mr. Waltham, but it takes him awhile to notice her as he is attached to snooty blonde Adela (Gadsden). Eventually Betty and Cyrus have a date at the amusement park, which was a treat to observe. Complications arise when Betty tries to help her single mother roommate by preventing social workers from taking the baby. Monty is fooled and blabs to Cyrus that Betty is an unwed mother. On a yachting trip she toys with Cyrus for treating her like a bought woman. She pretends to be French. The picture quality looks good and there are lots of laughs. Later this sort of storyline would be recycled ad infinitum, however it is nice to see this early example truly from the female perspective with the fascinating Clara Bow as the star.
See Details