Johnny Belinda
(1948)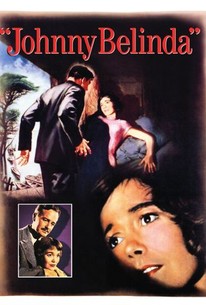 Movie Info
Jane Wyman stars as the deaf-mute farm girl Belinda McDonald, whose aging father Black (Charles Bickford) still resents his daughter over the death of her mother during childbirth. After area physician Robert Richardson (Lew Ayres) takes an interest in Belinda's case, he begins teaching the girl sign language; unfortunately, she also attracts the troubled McCormick (Stephen McNally), who rapes Belinda and leaves her pregnant.
Critic Reviews for Johnny Belinda
Audience Reviews for Johnny Belinda
As a child this film, so bold and brass for its time, scared me with its depiction of the rape of a deaf girl. Still tragically complicated and ultimately a cultural masterpiece, Johnny Belinda not only possesses the qualities that made the exceptional Miral Worker a phenomena, but also the ruthless libel that has occured all throughout history, and is fairly missing from the movies of the time.
Spencer S.
Super Reviewer
While the ending to "Johnny, Belinda" is surprisingly understanding and Jane Wyman's star making and Oscar winning performance is lovely, it's still a pretty dumb movie. The way deafness is handled in the picture is quite silly, and the events (rape and murder and misunderstanding in Canada) comes out a wash. See this film for the acting and a portrait on how misunderstood conditions were handled on screen back in the 40s.
Steven Carrier
Super Reviewer
I also seem to be attracted to movies about people with disabilities or special abilities. This movie shows how recently people didn't understand deafness. One teacher takes the time to show that Belinda can communicate, that Belinda is a whole human being who can take care of herself in many ways, and that she will protect her son like any mother would.
Byron Brubaker
Super Reviewer
Johnny Belinda Quotes
There are no approved quotes yet for this movie.