King of Kings
(1961)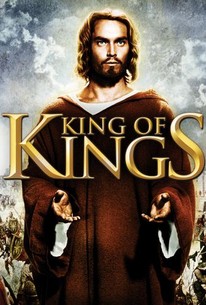 TOMATOMETER
AUDIENCE SCORE
Critic Consensus: With enough narrative depth to anchor the expected spectacle, King of Kings is a true blessing for fans of Biblical epics.
Movie Info
The powerful and critically-acclaimed story of Jesus told in a strikingly beautiful visual style. Stars Oscar-nominees and Emmy-winner Rip Torn (TV's "The Larry Sanders Show") as Judas and Robert Ryan ("Bad Day at Black Rock," "Crossfire," "The Wild Bunch") as John the Baptist with Jeffrey Hunter ("A Kiss Before Dying") as Christ. Directed by Oscar-nominee Nicholas Ray ("Rebel Without a Cause," "In a Lonely Place"). Narrated by Orson Welles ("Citizen Kane"). "...grandly filmed...deeply moving" - Leonard Maltin.
Critic Reviews for King of Kings
Audience Reviews for King of Kings
½
King of Kings is a large-scale epic telling the story of Jesus and featuring several screen legends and narrated by the great Orson Welles. The film does a good job of visually telling the story of Jesus and while it overall works as a historical epic it is very slow in parts and meanders frequently throughout it's nearly three hour running time. Still it is one of the better done and more well received depictions of the biblical story of Jesus and remains so.
Chris Browning
Super Reviewer
This picture, basically, it is a retelling of the story of Jesus. "King Of Kings" pretty much says it all and the director Nicolas Ray does a good job staying true to the life of the Son Of God. The cinematography is great, nice locations, thousands of extras, epic. Orson Welles provides the voice narration and covers the aspects of the story. Jefferey Hunter plays as Jesus and I couldn't help but notice the closeups of his blue eyes when he heals a blind man. Hunter doesn't over play the part and looks charismatic and confident as the Messiah. The film plays like theater since the characters talk and move like theater actors would. The vast, large epic scale is more important to the picture then the life of Jesus itself but overall this is a movie I'd recommend to athiests.
½
Man, as crazy as Jeffrey Hunter looks in this, I had to check to make sure that this interpretation of the greatest story ever told wasn't "Jesus Christ Superstar", because he was looking so folk rocky and hippy-y that I was half expecting him to miracle up a guitar and start playing some songs by Phil Keaggy. Christian folk rock jokes aside, I'm at least glad to see that Hunter can lead his own odyssey, because he's been everyone's sidekick. He's been "Frank" James and never Jesse, the sailor "of" the king and John Wayne's tag-along in "The Searchers". Of course, now that I think about it, I would have liked to have John Wayne in here, because I'm a tad curious to see where that centurion he cameoed as in "The Greatest Story" came from. I was hoping to see him somewhere among the disciples, getting into crazy shenanigans on his journey to find his abducted niece, and along the way, they battle Native Americans, and Jesus ends up accidentally purchasing one of them as his wife. Actually, nevermind, because this film limps along enough as it is, so it doesn't need any of the dragging from "The Searchers". No, this film isn't that bad excessive in its length, yet this remains a lengthy film, and one that's not about to let you forget it. The film slugs along quite a bit here and there, dragging out dialouge, but most of all, points of superfluous meditation upon pure nothingness. Still, even with all of this dreamy dragging and over meditation, there are still a good deal of should-be impacting touches of either exposition or texturing that go glossed over, or at least they feel that way, as many scenes basically began and ended with narration. The reason why Orson Welles' narration, is so problematic (Ouch, it hurt to say that, because I'd never thought I'd have an issue with Orson Welles talking) is because it pretty much both reflects and secures the film's central misstep that stands above all else as the flaw of flaws. The ultimate problem with the film is that it is so very under dramatized, going comprised of matter-of-fact tones and meditation upon the story as simply something to be told, rather than interpreted. Sure, the overambitious storytelling that renders many points to fall limp as under dramatic and more matter-of-fact is a fault found in the then-later to arrive and immensely superior "The Greatest Story Ever Told" (Shut up, I liked it better), yet where those were faults amidst an epic of dramatic atmosphere and interpretation, this film is all but entirely composed of that matter-of-fact approach, not so much going uninspired as it is going overinspired to the point of only diluting substance, and with it, dramatic investment. However, with all of its squandered potential and underwhelmingness spawned from overambition, the film still stands its ground as far from the film of films of the King of Kings, yet still enjoyable watch, and certainly a nifty production. The production designs are neither terribly unique nor terribly eye-catching, yet what is well-produced stands handsome, as well as supplementary to the film's themes and messages of complexity within comforting simplicity. It's a worthy theme to accompany a worthy story, one that has been better told many a time since, yet still remains almost naturally compelling and just so here. The film has a certain resonance to it that's not terribly engrossing, yet gives the film a workmanlike charm to it that, when married with the constant activity, forms consistent entertainment value and engage just well enough to hold the audience over until things pick up an resonance does genuinely deliver, and does so with the help of, well, at least one performance. From Siobhán McKenna as Mother Mary to Brigid Bazlen as some obnoxious, spoiled and freakishly creepy teenager, not most, but every single actress within this cast is absolutely awful, and there are a fair couple of men who aren't that much better, while the rest of the cast stands as nothing more than workmanlike. Still, at the center of it all, there is a man who feels a tad underused, yet owns the spotlight for the time its on him, and not simply because he is its main focus. Jeffrey Hunter is most certainly no Max von Sydow, yet he is sobering and subtley charismatic in his presence as Jesus, not to the point of being transcendant, yet still to the point of being buyable, and compellingly so, subtley but surely earning your investment. I wish I could say that there's more to the film that gives it extra juice, yet with what aspects in which it does accel being considerably well-done, the film carries on as an entertaining piece. Overall, the film goes betrayed by its own ambition, being occasionally over meditative and often somewhat hurried, due to the very matter-of-fact and overinspired tone, yet the film mostly goes raised past these missteps on the winds of clever production, general compellingness, consistent charm and an upstandingly engaging and charismatic lead performance by Jeffrey Hunter, not to where the picture trascends averageness, yet still to where Nicholas Ray's "King of Kings" ultimately stands as an entertaining and ultimately quite watchable interpretation of the life of the, well, King of Kings. 2.5/5 - Fair
Cameron Johnson
Super Reviewer
King of Kings Quotes
| | |
| --- | --- |
| Narrator [uncredited]: | And when the tomb was found empty, some days passed, and Christ was seen at Emmaus, and in Jerusalem, and those who saw Him knew He was the Lord God. And then a final time He came among His disciples by the shore of Galilee... |
| Jesus Christ: | [offscreen] Do you know and love Me? Feed My sheep, for My sheep are in all the nations. Go you into all the world and preach the gospel to every creature who hungers. I am with you always, even unto the end of the world. [We see the shadow of Jesus coming nearer toward the ocean, soon the shadow becomes perpendicular with the wood lying on the sand which makes a cross. The disciples leave; Peter is the last to go] |