Lilies of the Field
(1963)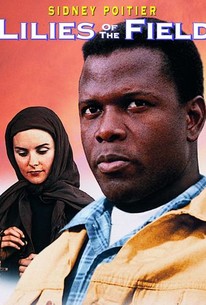 Lilies of the Field Photos
Movie Info
In this film, a traveling laborer meets five nuns in the Arizona desert. The appearance of Homer Smith convinces the Mother Superior he is an answer to her prayers. He wins the hearts of the nuns and the thanks of the town, as initial reluctance turns into public acceptance.
News & Interviews for Lilies of the Field
Critic Reviews for Lilies of the Field
Audience Reviews for Lilies of the Field
A laborer accepts a group of nuns' requests to build a church. Is it possible for a film to be both evangelical and light-hearted? They seem like a contradictory adjectives, but somehow the delightful exuberance of Sidney Poitier make the film work. He has an easy charm that contrasts nicely with the nuns' severity. The film's themes, include faith and stewardship, aren't heavy-handed or explored in any depth, but they're there, and the film is as catchy as the gospel tune that Poitier repeatedly sings. Overall, this isn't a canonical, except for the fact that Poitier became the first African-American to win Best Actor, but it's a fine time and entertaining couple of hours.
Jim Hunter
Super Reviewer
½
Poitier does his usual thing..this time giving a grand performance with a bunch of nuns. While the move is good, it does border on poor sentimentality. For this reason alone, I deduct a half star.
John Ballantine
Super Reviewer
Wisenheimer's winning film. Now, let's get one thing perfectly clear before we start. THIS MOVIE IS AWESOME AND A MUST SEE FOR EVERYONE!!!! this film probably has the most heart and charm of any film I have ever seen. And why take ye thought for raiment? Consider the lilies of the field, how they grow; they toil not, neither do they spin. Matthew 6:28. King James Version. Acting/characters: As I'm sure most, if not all of you know, Sidney Poitier became the first African American actor to win Best Actor at the Oscars. Now, I haven't seen any of the other contenders (except for Tom Jones and that movie was garbage) but from what I have seen, Poitier definitely deserved the award. Lilia Skala, who played the commanding Mother Superior did an excellent job as well and it was really fun to see their two head-strong personalities clash. But the real joy of this movie is watching Poitier interact with the other four nuns especially the scenes where he is teaching them English, particularly the first time. The performances were overall very very good and Poitier and Skala did excellent jobs as the lead characters. 10/10 Plot: it is one of the best, most heartwarming films I have ever seen. Once you get a good idea of what it is about, you generally know how it is going to end and where it is going to go. For a different kind of film, that can hurt it but not this one. I found myself laughing because I was so...touched by how the characters interacted with each other. even the moments where Homer Smith and Mother Maria are butting heads, I still get the feeling that they have a mutual respect for each other even if they don't know how to show it. The driving point of the plot is definitely character relationships and boy are they really well done here. It was a highly well done and very entertaining plot that kept my interest the entire time. 10/10 Screenplay: I got the feeling that this one took a backseat to the character aspect of the film but I think that it doesn't hurt the film at all. I think it was a perfectly fine screenplay and it was very well done. It was mostly in English but it also had bits and pieces of German in there too which I think worked very well as the four other nuns who weren't Mother Maria only spoke German. Them turning to Mother Maria eagerly waiting for her to translate the last thing Homer smith said to them was just awesome and it just made them more...lovable. I think the writer did a fine job writing this film. Behind good characters and performances there is a great screenplay. 10/10 Likableness: I highly enjoyed this one and it is one of the best films I have seen in a long time. I am glad that I watched it. for those of you out there who haven't seen this film, GO SEE IT SOON!! You will enjoy it very much. I promise you. The performances are stellar, the story is highly enjoyable and positively heartwarming. I highly enjoyed it and I would have no reservations about seeing it again. Poitier definitely deserved his Oscar for this one. It is just an all around very good film. 10/10 Final Score: 40/40 100% (P) Tomatometer rating: 100% Tomatometer rating if my review was added: 100% TRIVIA TIME: 1. Since the story's action was tied to the chapel's construction, crew had to work through the night to keep up with it "progress" in the film. The actual building was real and could have stood for decades, but because it was built on rented property, it had to be demolished immediately after the filming was completed. 2. Actor Sidney Poitier gave up his usual salary and agreed to do the film for a smaller amount and a percentage of the profits. He won the Best Actor Oscar for his efforts. 3. Director Ralph Nelson had to put up his house as collateral.
Lord Naseby
Super Reviewer
Lilies of the Field Quotes
There are no approved quotes yet for this movie.