Little Women
(1933)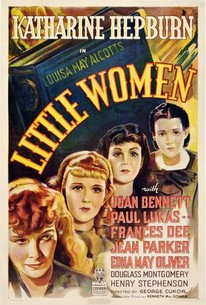 Movie Info
George Cukor directed this classic adaptation of Louisa May Alcott's sentimental novel with a shimmering lavishness that is a prime example of the classic Hollywood style at its best. The story concerns the lives of four New England sisters -- Jo (Katharine Hepburn), Amy (Joan Bennett), Meg (Frances Dee), and Beth (Jean Parker) -- during the time of the Civil War. Jo desires to leave home to become a writer, but decides to stay to help the family. But Meg announces her plans to get married, so Jo leaves for New York City. As she settles down to a writing career, she meets Professor Fritz Bhaer (Paul Lukas), who helps her with her work. While Jo is away, Amy falls in love and marries Jo's old flame Laurie Laurence (Douglass Montgomery). But Jo is forced to return to New England when she discovers Beth is dying. ~ Paul Brenner, Rovi
Critic Reviews for Little Women
Audience Reviews for Little Women
Little women are about 4 women that grew up in the Civil War period. They were face with hardships like having their father off fighting in the war, being poor and being teenaged. When a new boy moves in next door the girl's world turns up side town. Over time they had to learn ho to deal with news things of growing up like falling in love and that they cannot live together under their parents house forever. Pros Good acting and plot. It had good music in this film. This film is really moving. Con it can be slow some times If you like coming age films, click flicks or really moving films, you should give this a try.
erika bruhns
Super Reviewer
Hepburn is such a clown, but the rest are inordinately dull. And one star turn does not a movie make.
Jennifer Xu
Super Reviewer
Good if dated version of the Alcott perennial. The story is faithful to the book but some of the acting and filming techniques show signs of the film's age. Still if you're a fan of the book there is much to like here. Hepburn of course is ideally cast as Jo, perhaps one of the classic examples of an actress and a part completely suited to each other. Frances Dee and Jean Parker acquit themselves well as Meg and Beth respectively but those two sisters, even with Beth's tragedy, are the two blandest characters in the book. Joan Bennett is sulky and kittenish as the selfish Amy filling the part but she really wasn't to come into her own as a presence that registered on the screen for about five more years when she switched from blonde ingenue to brunette woman of mystery and usually danger. The great Edna May Oliver scores as the salty Aunt March and Spring Byington is strong as Marmee although her role is somewhat diminished from the book. It's interesting still to see her here as a tower of strength and rectitude considering her long career as a chic but usually addlepated society woman. The men however are a totally different matter. Douglass Montgomery as Laurie is simpering and bland. Also while it isn't his fault his makeup is so heavy that it is completely distracting whenever he is on screen. John Davis Lodge who plays Meg's husband Mr. Brooke suffers the same fate. Cukor as always directs well. He hated the term woman's director but he really was one of the absolute best at bringing out high quality performances from his actresses, not just the stars but the supporting players.