Lolita
(1962)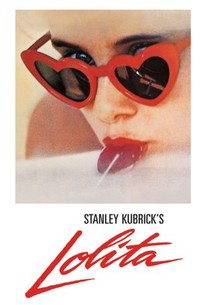 Movie Info
"How did they make a movie out of Lolita?" teased the print ads of this Stanley Kubrick production. The answer: by adding three years to the title character's age. The original Vladimir Nabokov novel caused no end of scandal by detailing the romance between a middle-aged intellectual and a 12-year-old nymphet. The affair is "cleansed" ever so slightly in the film by making Lolita a 15-year-old (portrayed by 16-year-old Sue Lyon). In adapting his novel to film, Nabokov downplayed the wicked satire and sensuality of the material, concentrating instead on the story's farcical aspects. James Mason plays professor Humbert Humbert, who while waiting to begin a teaching post in the United States rents a room from blowzy Shelley Winters. Winters immediately falls for the worldly Humbert, but he only has eyes for his landlady's nubile daughter Lolita. The professor goes so far as to marry Winters so that he can remain near to the object of his ardor. Turning up like a bad penny at every opportunity is smarmy TV writer Quilty (Peter Sellers), who seems inordinately interested in Humbert's behavior. When Winters happens to read Humbert's diary, she is so revolted by his lustful thoughts that she runs blindly into the street, where she is struck and killed by a car. Without telling Lolita that her mother is dead, Humbert packs her into the car and goes on a cross-country trip, dogged every inch of the way by a mysterious pursuer. Once she gets over the shock of her mother's death, Lolita is agreeable to inaugurating an affair with her stepfather (this is handled very, very discreetly, despite the slavering critical assessments of 1962). But when the girl begins discovering boys her own age, she drifts away from Humbert. One day, she leaves without warning. This is humiliation enough for Humbert; but when he discovers who her secret lover really is, the results are fatal. We are prepared for the ending because the film has been framed as a flashback; what we are not prepared for is Stanley Kubrick's adroit manipulation of our sympathies and expectations. An incredibly long film considering its subject matter, Lolita is never dull, nor does it ever stoop to the sensationalism prevalent in the film's ad campaign.
Critic Reviews for Lolita
Audience Reviews for Lolita
½
The fact that Nabokov's perverse and sensual masterpiece got adapted was a remarkable achievement, considering its polemic subject and the year the film was released, and Kubrick was a genius turn it into a subtle story that implies more than it shows while still remaining true to the novel.
Carlos Magalhães
Super Reviewer
Kubrick at the top of his game with an all star team behind him delivers nothing less than quality in this Nabakov tale that skewers Americans and their tightly held preconceptions at every turn, nearly in every frame. James Mason is wunderbar and understated, but by no means all that the effort has to offer.
Kevin M. Williams
Super Reviewer
½
Stanley Kubrick's Lolita is a very good film, but it is far from his best work. The film is well crafted, but Kubrick would steadily mature as a filmmaker, and Lolita is one of his films that tends to really broaded his scope and he is able to pull something quite interested. However, the idea here is quite simple, and Kubrick is a filmmaker that was always known for epic pictures, however Lolita tackles a taboo subject, and in doing so, he manages to break new ground in filmmaking, however at the same time it's not a standout work either. I really wanted to enjoy it, and somewhat did, however, it's not his best work. I guess here, the film worked more as an experiment for Stanley Kubrick, of which each film he made tended to be big, bold and risky, which was the case with all his films. Yet, they always were entertaining, brilliantly acted and uniquely directed. Lolita is good, but it's my least favorite of Kubrick's works. I'm not saying the film is awful, far from it, but for many, it's hard to get into, and to walk away from that truly memorable Stanley Kubrick viewing experience. In his later work, he would definitely hone his craft, and deliver some of cinema's finest pictures. As a whole, Lolita is not a film to be seen by viewers who are new to Kubrick. The film works well, and it's engaging from start to finish. But like I said, it's not Kubrick's best, as he would constantly top himself with future films. Lolita is nonetheless essential viewing if you enjoy his work.
Lolita Quotes
| | |
| --- | --- |
| Clare Quilty: | Say, what you take it away for, mister? That was getting kind of smutty there! [laughs] |
| Clare Quilty: | Say, what you take it away for, mister? That was getting kind of smutty there! |
| Humbert Humbert: | Do you have any last words? |
| Clare Quilty: | Listen, Mac. You're drunk, and I'm a sick man. This pistol-packing farce is becoming a sort of nuisance. |
| Humbert Humbert: | Do you want to die standing up or sitting down? |
| Clare Quilty: | I wanna die like a champion. |