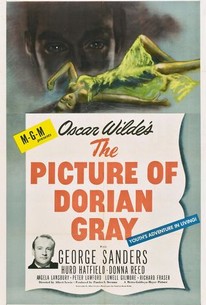 The Picture of Dorian Gray
1945, Horror, 1h 50m
15 Reviews
5,000+ Ratings
Where to watch
Rent/buy
Rent/buy
Rent/buy
Rate And Review
The Picture of Dorian Gray Photos
Movie Info
Posing for a portrait, Dorian Gray (Hurd Hatfield) talks with Lord Henry Wotton (George Sanders), who says that men should pursue their sensual longings, but laments that only the young get to do so. Taken with the idea, Dorian imagines a scenario in which the painting will age as he stays youthful. His wish comes true, and his boyish looks aid him as he indulges his every whim. But when a stunning revelation forces him to see what he's become, Dorian faces some very dangerous questions.
Audience Reviews for The Picture of Dorian Gray
This is <i>the</i> film version of Oscar Wilde's classic tale about a man whose physical appearance remains the same despite his depravity. Finally, Wilde's tale is adapted faithfully. In this film version, Dorian is not a magical superhero/villain a la <i>The League of Extraordinary Gentlemen</i> or a horribly corrupt murderer a la <i>Dorian Gray</i>. He is instead appropriately narcissistic and tortured. Within Hurd Hatfield's performance is a healthy conscience that manifests in his eyes but not the rest of his physiognomy. The real improvement comes in the performance of George Sanders who captures Wilde's Lord Henry perfectly. <i>Dorian Gray</i> with Colin Firth posited that depravity was the logical extension of Lord Henry's philosophy, but Sanders's performance correctly captures what Wilde might have said: that fun is the logic extension of Lord Henry's philosophy. There's a big jump between a philosophy that deifies the aesthetic and a philosophy that finds beauty in murder. This seems like an obvious point, but of the adaptations I've seen, only director Albert Lewin seems to understand it. Overall, if you really hate reading but still want to see a version of Oscar Wilde's novel, then see this one.

Oscar Wilde's famous novel is brought to life in this pretty faithful adaptation by director/writer Albert Lewin. Some of the homosexual subtext has been toned down, and Dorian's spiraling descent into depravity is alluded to so vaguely that one could ascribe just about anything to it. I wasn't a fan of the novel, mainly because I found the philosophies and witticisms to be meaningless. For example (and just to pull something off the top of my head), "it's the man who never thirsts whose cup is always full". I just made that up, it means nothing, yet could mean something if someone bothered to think about it. There is a character in the book spouting off such witticisms every third sentence, and it becomes grating after a while. Anyway, while the film was very keen on the superficial aspects of re-creating the story, I don't think it touched on the true heart of the novel, the fear of lost youth or the nihilistic approach to life that Dorian is led to by an evil mentor (all the more evil that he corrupts Dorian just for simple fun, rather than any ulterior motive). I suppose it's a lot to expect from 1940s hollywood. In any event, what we have here is a completely passable version of Dorian Gray.

A solid adaptation of the novel, a bit dated and slugish in it's pacing. Special mention to the fully colored painting the movie wisely uses as the only image of color, truly creepy stuff.
See Details