The Prowler
(1981)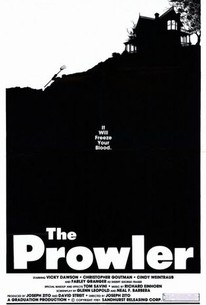 Movie Info
In this gory slice-n-dicer, a WWII vet returns home and finds his girl in the arms of another at the town's annual dance. Outraged, he kills both with a pitchfork. The story jumps 35 years ahead as the town prepares to hold the dance again. Unfortunately, the vet decides to attend.
People Who Like this movie also like
Critic Reviews for The Prowler
All Critics (5) | Fresh (3) | Rotten (2) | DVD (5)
A film with these specific strengths ought to be at least worth it for the [slasher] genre faithful, and it is - but it is solely for the faithful.
Another of the fine collaborations between Tom Savini and Joseph Zito, both of whom know how to deliver damn fine slasher fare.
a better-than-expected entry into that most despised of genres
Audience Reviews for The Prowler
Bloody stalk 'n' slash classic about a disgruntled WW2 Vet with a dislike of happy young teens who goes around dispatching them violently during a graduation party. The kills in this one are among the most brutal from the 80s slasher era with some of them actually being quite disturbing as the camera lingers on the last agonizing moments of the victim. One of Savini's career highlights for sure! Aside from the death scenes the film does build some quite effective suspensful moments too and the musical score adds well to the atmosphere. Essential viewing! One of my favourite slashers.
"If you think you're safe... your DEAD wrong." You know a genre is bad when it's enthusiasts call a movie like The Prowler one of the best of the genre. In reality, all The Prowler is, is another generic and actually pretty boring slasher from the 80's. The story is a lot like My Bloody Valentine(my favorite 80's slasher). Everything else about the film falls into a dead genre that besides a few exceptions is horrible. Among the good ones are Black Christmas(the best), Halloween, My Bloody Valentine, and I guess you can throw Psycho into the equation, but I really don't see it as a slasher. There are some other decent to good slashers out there. There are a few Friday The 13th's that are ok, not good, but ok. The first Nightmare on Elm Street is pretty good. So the genre is pretty flat. This movie is no exception to that.  The Prowler is a movie that suffers from horrible pacing. It's boring in sections and that just can't happen if you want to make a good slasher. It offers a few good kills, but supporters of this movie act like the kills are the best ever. Their ok, but none of them really excited me. I did like the opening sequence, but after that I was less than impressed. It was the same cliche slasher, where every door is locked and I'm going to run from the killer turn a corner and run into someone I know. There's nothing original here.  I guess the hype of people saying this was one of the best slashers out there, killed it for me. It turns out to be just an average slasher, which in the real world means it's a bad movie. 
Melvin White
Super Reviewer
An okay, average slasher movie, pretty routine with a little blood and gore here and there. It's entertaining, but that's it.
The Prowler Quotes
There are no approved quotes yet for this movie.