Runaway
(1984)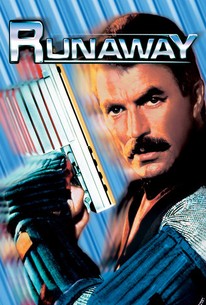 Movie Info
Best-selling author Michael Crichton wrote and directed this science fiction thriller that combined the influences of Blade Runner (1982), comic books, and Crichton's ongoing fascination with the dangers of high technology. Tom Selleck stars as Sergeant Jack Ramsey, a single father in the near future, when robots have largely replaced humans in performing menial labor. However, the robots occasionally malfunction, threatening human life and requiring a specialist like Jack, who terminates the haywire "runaways." Investigating a particularly nasty series of recent cases, Jack and his new partner Karen Thompson (Cynthia Rhodes) discover a connection between the runaways and Charles Luther (Kiss frontsman Gene Simmons). Luther, a maniacal genius, is masterminding a plot to create an army of killing machines. With time running out, it's up to Jack and Karen to match wits with Luther and save humanity.
People Who Like this movie also like
Critic Reviews for Runaway
Audience Reviews for Runaway
The man's man Mr Selleck is on top form here and so is that iconic tash as he goes up against a nasty robot controlling villain with his feisty blonde partner in a not so distant future (that future being waaay in the past now). Written by Michael Crichton and using some (at the time) top looking robot effects mixed with computer wizardry and fancy looking imagery the film actually does achieve the aim of being set in a regular world now accompanied by robots with all kinds of duties. It reads like an Asimov story and is quite good fun despite its age, the acting is amusing and hammy, Gene Simmons is great fun as the evil baddie and the weaponry on display is quaint, its almost like a comicbook flick. Its actually kinda cool to watch this film and recall all this old technology, I think I actually remember those little spider robots being shown on TV way back, maybe on 'Tomorrows World' or something like that, loving those big chunky computers and the fact that Selleck couldn't track evil Simmons when he called up because Simmons was using a mobile phone haha how did we all survive without mobile phones!? Its all obsolete but its still much fun to watch which almost goes for most of Selleck's work.
Phil Hubbs
Super Reviewer
A great sci-fi action movie, very exciting and cool. I really liked this movie.
More inept straight to video tosh from Tom Selleck in which an evil mastermind played by Gene Simmons (yes, that one!) tries to kill people with meccano. Silly.
Runaway Quotes
There are no approved quotes yet for this movie.